Dec 2 2015: Model pics added to FX, VLX, C van pages. Koroit station building diagram added
Nov. 18 2015: Mansfield dia, West Footscray, Y class diesel,
Nov. 7 2015: New photos added to: Deep Lead page, Mansfield page, ZL page, VLX page redesigned and photos added, S class loco page, Ballarat page.
Nov 6 2015: New photos added to CP guards van page, Yinnar page, Sale. Dimboola page.
Nov. 5 2015: New photos added to Melton, Parwan, Sunbury, Gisborne, pages.
Nov 4 2015: New photos added to the Carlshrue and Moama pages.
I have set up a forum attached to this website that I would like to invite you to join. One group is to discuss VR history and the other is to discuss VR modelling. I would prefer that real names be used. Please play nice. Don't hesitate to join and start asking questions and joining in the discussions.
Aug 6 2013: Regular visitors may have noticed that I haven't updated the site for a quite a while! After 10+ years I have found that the time to put the work into this site is becomming more scarce. I still have GY loads of digitised and un-digitised material to put up and am looking for someone to take over this task. If you know your way around a html editor and are willing to travel to Woodend know and then please drop me a line. In the meantime, Geoff Winkler and I have started a Victorian Railways facebook group where it is very simple to upload photos for all to see and I have been posting to it regularly, the group can be found here: https://www.facebook.com/groups/383290015105229/ or just type "Victorian Railways" into facebook (include the quotation marks)
Feb 26 2013: Drawing of every type of axlebox, courtesy Philip Dunn, New photos of CA guards van, Glenorchy, Sunbury.
Feb 24 2013: Photos ofAlexandra, by Stuart Lodington. Detailed surveyors plans for the Yackandandah - Beechworth and the Moe - Walhalla lines from the Colin Rutledge collection.
Feb 22 2013: Detailed surveyors plans for the Castlemaine - Maldon line. New pics on the M van and KMQ wagon pages.
Feb 20 2013: Detailed surveyors plans for the Carlshrue - Daylesford line from the Colin Rutledge collection.New pics/plans on Ravenswood, Ballarat East loco depot, Trawalla, Traralgon, Bacchus Marsh,
Feb 13 2013: New pics/plans on Macedon, Walker Broadmeadows pages. Detailed surveyors plans for the Buninyong line from the Colin Rutledge collection.
Feb. 9 2013. New pics of Ararat A box, St Albans,
Feb. 8 2013: New pics on: F class diesel, T class diesel, Y diesel pages, new pic and diagram on Elmore page,
Jan 31 2013: New pics on ZL, GY, point indicator diagrams,
Jan. 30 2013: 4 new diagrams of Elmore (some of these diagrams may have been proposals that didn't take place).
General arrangement diagrams of:
L sheep wagon, MF cattle wagon, QN ballast wagon, 10 ton T van, 15 ton T van, S flat wagon, J hopper wagon (on CJ page), Steelweld diagram of GJX101-200, QMX container wagon, GJF bogie hopper, GY open wagon, I open wagon, IT timber wagon, P powder van, VF louvre van, W workmens sleeper,
Jan. 20 2013: I am most grateful for Colin Rutledge having made available his extensive collection of infrastructure and signal diagrams for us and a start has been made on putting them on the website. 87 diagrams can be found on the index pages:A - C and D - H and all new diagrams have a NEW next to them.
New material on the following pages: ZL, Sunbury, Line opening circular Kanagulk-Balmoral. 1919 Whittlesea line timetables.
Oct. 17 2012: Frank Kelly loaned me his copy of the 1910 Way & Works branch Book of Instructions which is now available as a 30MB download in the infrastructure section. Lots of great drawings for modellers!
Sept. 25 2012: History cards for C, Na and V class steam locomotives added.
Sept. 24 2012: Warren Banfield has let me scan some more of his great slides and the first ones are up on the Rockbank, Serviceton, Sunbury, Glenrowan pages.
Sept. 15 2012: Many thanks to Captain Paul Davis for making available an 1864 VR rulebook and a 1864 Melbourne Railway Company rulebook, and thanks to Chris Wurr for digitally photographing them, they can be downloaded from the Signal page as multi page pdf's. New photos added to the following pages: AX, Z, ZL, RY, M, Dooen, Glenrowan. I have also added some photos of Frank Kelly superb models on the Z and T van pages with more to follow.
Sep 13 2012: Short T vans, GJF,
Sept. 11 2012: A2 history cards added to the A2 page. WARNING, it is a 600+ page pdf, 77MB download.
Sept. 4 2012: On the signal page I have put up a "Signal & Telegraph branch catalog" which has over 200 drawings of signal equipment. WARNING, it is a 110MB download. Laverton derailment photos on the Laverton page. New photo of Stawell A box, many new RY, photos added to coincide with the release of SEM's new RY models. New photos of QS 1 and QS 2 on the QS page. SFF, IY, H vans, KQ,
Aug. 24 2012: N class history cards and new photo at Sale added.
Aug. 23 2012: History cards for K and J class locos added.
August 22 2012: New photos on the Malmsbury, Carlshrue, Q, QR, pages. I have also put some plans of semaphore signal equipment into a pdf on the signal page.
August 17 2012: S steam, ashpit and rail weights on infrastructure page, X 35 after Glenorochy crash, Dynamometer car interior photo, Before & After at Bendigo, GJF, Q flat wagons, FP, The full set of 1948 suburban train drivers roster books are now in the timetables section
August 11 2012: The history cards for R and S class steam locos have been put up on their pages. Many thanks to Gary Roberts for making available a full set of suburban drivers roster books from 1948, I have just put up the first one in the timetables section:
Aug 10 2012: We are indebted to Phil Dunn for making available digital copies of the VR steam loco history cards. These are the "official" history of each loco, from being built to scrapped. The first class covered is the X class, by clicking on the link you will be downloading a 20MB pdf. The pdf can be downloaded from the X class steam loco page where there is also a new photo. I'd also like to thank Mark Warner for beautifully scanning some old signal diagrams, there are 20 new signal diagrams on the signal diagrams page, all new diagrams are indicated with ***NEW*** New photos on the following pages: O wagons, KPC, RY, W workmens sleeper, Test brake boards,
Aug 1 2012: New items include: Bacchus Marsh 1919 diagram, Mildura page, Laverton page, Colac locking sketch,
July 30 2012: New pics on the follwing pages. GJF, Elphinstone, Wandong, H diesel, Wodonga,T 413.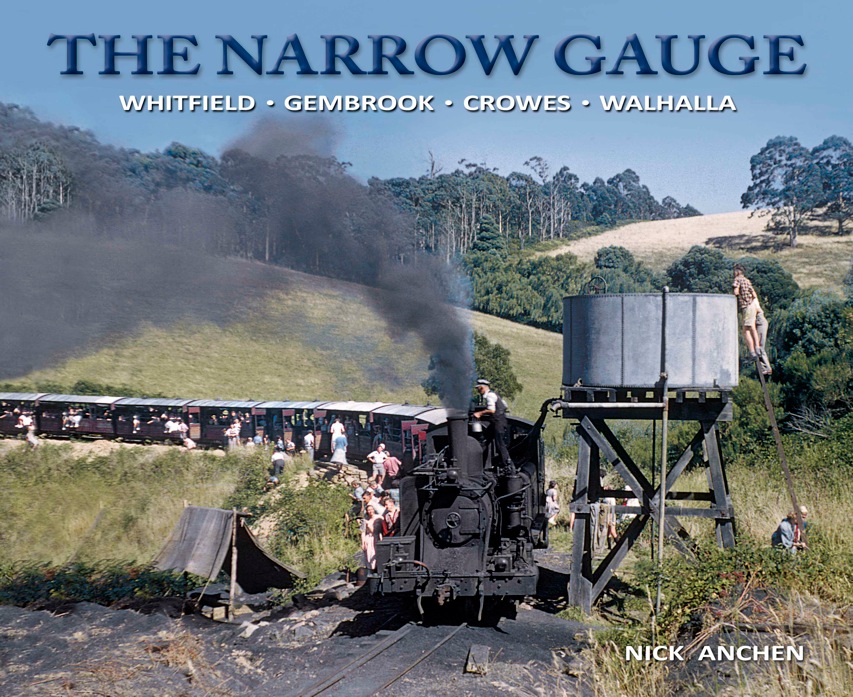 Nick Anchen has just released a fantastic book covering all of VR's narrow gauge lines. It can be ordered from his webpage.