March 18 2017:
New photo on the Warragul page.
Emile Badaway has provided a link to the Victorian State Parliment webpage where many documents pertaining to the VR have been uploaded including all the VR annual reports, it's a trasure trove of information on the Victorian Railways!
State parliament website.
March 14 2017:
CALL FOR PHOTOS:
I am putting together a page showing photos of all signalboxes and am looking for good quality pics of old signalboxes. I do not need photos of old boxes that are boarded up and still standing. A couple of specific boxes I need photos of are the pre 1962 box at Albion, any photo of Albistore, Arden Street, pre1959 St Albans and generally any decent quality photos of any signalboxes pre 1970's.

Added another 20 signal box diagrams.
Feb 24 2017:
14 new signal box diagrams added to signal diagrams. New diagrams denoted by ***
Feb. 18 2017:
New photos added to ALX page to coincide with Auscision's release of their HO scale ALX.
I have begun the process of changing the photo galleries, instead of each location having a seperate page, stations will be grouped into line segments, the first is Ballarat to Ararat. Major stations will still have their own page.
Feb 7 2017:
Lubeck, Bendigo D, Port Melbourne A,
Feb 3 2017:
4 pics of the Woodend signalbox thanks to John Gilbert.
Feb 2 2017:
I have just redone the "recent photos" gallery as a test for a general revamp of all the photo galleries, have a look and let me know what you think. This new design will allow me to add new content much faster than was possible with the old style galleries.
Feb 1 2017:
New photos added to: Korong Vale, L class, Oakleigh.
Jan 31 2017:
Last run of A66 on a Seymour in the recents page.
Jan 30 2017:
I have cleaned up the links page and removed any dead links, if a link to your page has been deleted it is because the link is not working, if you would like to see your page in the links page please provide me with a valid URL.
The following links were removed:
Weico
Tom's hobbies and Trainorama,
Railmotor models,
VR products,
blue and gold models,
rail scale models,
bullamakanka models,
proto 87 store,
bhbooks,
Signal Record Society (Vic),
RailPix Australia,
Jan 24 2017:
Photos by Stewart Lodington at Hamilton, Balmoral Line.
Dec. 29 2016:
New photos of Lyonville, Sandringham,
Dec. 28 2016:
New photos on the: Sale, Parwan, Diggers Rest, pages.
Dec. 27 2016
Uploaded a 110 MB pdf containing 224 plans of various signalboxes in the signalling page. (for some reason this file isn't downloading properly, I can download it in Safari but must use Acrobat to open it, It is not downloading properly at all in Chrome. I may have to create the pdf again)
Dec. 25 2016
Uploaded a 295 MB pdf containing over 400 bridge diagrams in the infrastructure section. Continuing thanks to Colin Rutledge for making these available.
Dec. 20 2016:
I am starting the process of converting this site from GoLive to Dreamweaver which is a big project and I hope you'll bear with me as it progresses, there may be some bad pages/links created temporarily in the process.
Sep 12: New pics on T diesel, C diesel, Werribee, pages
Sep 1: new pics on Y diesel page and GY page.
June 28 2016:
It is with great sadness that I pass on the news of the death of Frank Kelly. Frank was a giant of the Australian railway modelling fraternity and was a Master Craftsman par excellence at scratchbuilding. Frank also was an enthusiastic supporter of this website and contributed a great deal to it over the years. Amongst his many great achievements, Frank was responsible for the VR diagram books being reprinted in the 1980's and was a pivotal advisor for the Cavalcade of Transport mural. As a member of the Victorian Model Railway Society he always made newcomers feel welcome and freely shared his deep knowledge. Frank passed away peacefully this morning and leaves a hole that will be impossible to fill.
Feb 29 2016, New photos on AX page, RM24 as delivered at Morwell, 1980 VicRail signal catalog. pdf of collection of standard building drawings on infrastructure page. pdf of collection of signal/bridges on signalling page. Kyneton box diagram, Glenorchy signal box plan. 1912 plan of Hamilton signal box. Various infrastructre plans Melb-Bendigo 29MB download on Melb-Bendigo grades book page.
Feb 24: photos added to S wagon page,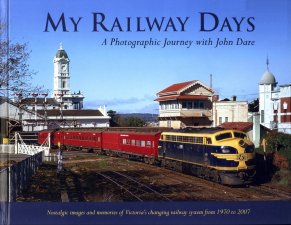 John Dare recently released a fantastic book on the VR, great quality photography and lots of historical info, a must have for the VR fan, it can be ordered from the ARHS Vic division
Feb 22 2016: I have decided to put location specific plans up on the relevant photo gallery pages, it is an inelegant solution but saves me creating new pages. The first plans are of the new station buildings at "Ballarat West" until seeing these plans I was unaware that what we now know as Ballarat was ever known as Ballarat West. The plans are on the Ballarat page.
Feb 22 2016: The recent problems with the website are now fixed but sadly the forum could not be saved (it was stored at my host, not backed up on my computer) If anyone has a backup please let me know.
I've added some pics to the recent gallery, look for a lot of plans to be uploaded soon.
Dec 2 2015: Model pics added to FX, VLX, C van pages. Koroit station building diagram added
Nov. 18 2015: Mansfield dia, West Footscray, Y class diesel,
Nov. 7 2015: New photos added to: Deep Lead page, Mansfield page, ZL page, VLX page redesigned and photos added, S class loco page, Ballarat page.
Nov 6 2015: New photos added to CP guards van page, Yinnar page, Sale. Dimboola page.
Nov. 5 2015: New photos added to Melton, Parwan, Sunbury, Gisborne, pages.
Nov 4 2015: New photos added to the Carlshrue and Moama pages.
Feb 26 2013: Drawing of every type of axlebox, courtesy Philip Dunn, New photos of CA guards van, Glenorchy, Sunbury.
Feb 24 2013: Photos ofAlexandra, by Stuart Lodington. Detailed surveyors plans for the Yackandandah - Beechworth and the Moe - Walhalla lines from the Colin Rutledge collection.
Feb 22 2013: Detailed surveyors plans for the Castlemaine - Maldon line. New pics on the M van and KMQ wagon pages.
Feb 20 2013: Detailed surveyors plans for the Carlshrue - Daylesford line from the Colin Rutledge collection.New pics/plans on Ravenswood, Ballarat East loco depot, Trawalla, Traralgon, Bacchus Marsh,
Feb 13 2013: New pics/plans on Macedon, Walker Broadmeadows pages. Detailed surveyors plans for the Buninyong line from the Colin Rutledge collection.
Feb. 9 2013. New pics of Ararat A box, St Albans,
Feb. 8 2013: New pics on: F class diesel, T class diesel, Y diesel pages, new pic and diagram on Elmore page,
Jan 31 2013: New pics on ZL, GY, point indicator diagrams,
Jan. 30 2013: 4 new diagrams of Elmore (some of these diagrams may have been proposals that didn't take place).
General arrangement diagrams of:
L sheep wagon, MF cattle wagon, QN ballast wagon, 10 ton T van, 15 ton T van, S flat wagon, J hopper wagon (on CJ page), Steelweld diagram of GJX101-200, QMX container wagon, GJF bogie hopper, GY open wagon, I open wagon, IT timber wagon, P powder van, VF louvre van, W workmens sleeper,
Jan. 20 2013: I am most grateful for Colin Rutledge having made available his extensive collection of infrastructure and signal diagrams for us and a start has been made on putting them on the website. 87 diagrams can be found on the index pages:A - C and D - H and all new diagrams have a NEW next to them.
New material on the following pages: ZL, Sunbury, Line opening circular Kanagulk-Balmoral. 1919 Whittlesea line timetables.
Oct. 17 2012: Frank Kelly loaned me his copy of the 1910 Way & Works branch Book of Instructions which is now available as a 30MB download in the infrastructure section. Lots of great drawings for modellers!
Sept. 25 2012: History cards for C, Na and V class steam locomotives added.
Sept. 24 2012: Warren Banfield has let me scan some more of his great slides and the first ones are up on the Rockbank, Serviceton, Sunbury, Glenrowan pages.
Sept. 15 2012: Many thanks to Captain Paul Davis for making available an 1864 VR rulebook and a 1864 Melbourne Railway Company rulebook, and thanks to Chris Wurr for digitally photographing them, they can be downloaded from the Signal page as multi page pdf's. New photos added to the following pages: AX, Z, ZL, RY, M, Dooen, Glenrowan. I have also added some photos of Frank Kelly superb models on the Z and T van pages with more to follow.
Sep 13 2012: Short T vans, GJF,
Sept. 11 2012: A2 history cards added to the A2 page. WARNING, it is a 600+ page pdf, 77MB download.
Sept. 4 2012: On the signal page I have put up a "Signal & Telegraph branch catalog" which has over 200 drawings of signal equipment. WARNING, it is a 110MB download. Laverton derailment photos on the Laverton page. New photo of Stawell A box, many new RY, photos added to coincide with the release of SEM's new RY models. New photos of QS 1 and QS 2 on the QS page. SFF, IY, H vans, KQ,
Aug. 24 2012: N class history cards and new photo at Sale added.
Aug. 23 2012: History cards for K and J class locos added.
August 22 2012: New photos on the Malmsbury, Carlshrue, Q, QR, pages. I have also put some plans of semaphore signal equipment into a pdf on the signal page.
August 17 2012: S steam, ashpit and rail weights on infrastructure page, X 35 after Glenorochy crash, Dynamometer car interior photo, Before & After at Bendigo, GJF, Q flat wagons, FP, The full set of 1948 suburban train drivers roster books are now in the timetables section
August 11 2012: The history cards for R and S class steam locos have been put up on their pages. Many thanks to Gary Roberts for making available a full set of suburban drivers roster books from 1948, I have just put up the first one in the timetables section:
Aug 10 2012: We are indebted to Phil Dunn for making available digital copies of the VR steam loco history cards. These are the "official" history of each loco, from being built to scrapped. The first class covered is the X class, by clicking on the link you will be downloading a 20MB pdf. The pdf can be downloaded from the X class steam loco page where there is also a new photo. I'd also like to thank Mark Warner for beautifully scanning some old signal diagrams, there are 20 new signal diagrams on the signal diagrams page, all new diagrams are indicated with ***NEW*** New photos on the following pages: O wagons, KPC, RY, W workmens sleeper, Test brake boards,
Aug 1 2012: New items include: Bacchus Marsh 1919 diagram, Mildura page, Laverton page, Colac locking sketch,
July 30 2012: New pics on the follwing pages. GJF, Elphinstone, Wandong, H diesel, Wodonga,T 413.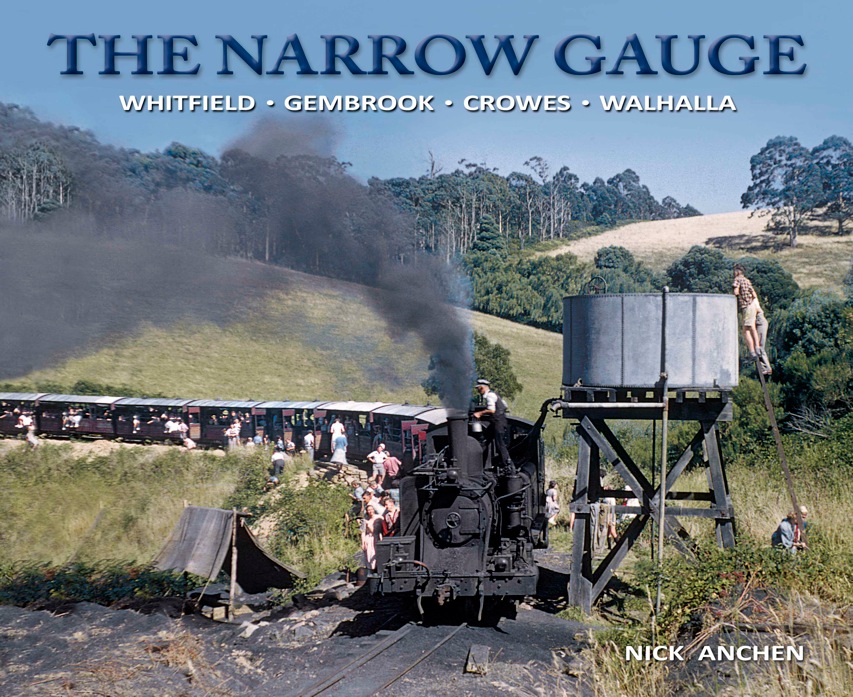 Nick Anchen has just released a fantastic book covering all of VR's narrow gauge lines. It can be ordered from his webpage.