SPENCER STREET

S 302 (Edward Henty) at Spencer St, circa 1940
Spencer Street looking South, 1880. The staggered 1859 platforms on the left are parallel to Spencer St. A few years after this photo was made, major alterations resulted in the platforms being at an angle to Spencer Street, rather than parallel to it as seen in this photo. This is very obvious today when viewed from the elevated concourse of the new Spencer Street. The two vehicles in the foreground are carriage trucks, (G class) the 19th century version of what was later marketed as "Motorail". These conveyed the horse drawn carriages of the landed gentry around the colony, loading being facilitated by the provision of deadend "carriage docks"at most country stations. Surviving examples can be found at Maldon and Trentham. A photo of the carriage dock at Stawell, without rails, can be seen by clicking here.
The locomotives are two of the four 0-6-0's supplied to the VR by George England & Co, Hatcham Ironworks, London in 1857. Known to the operating staff as "Slim Jims" on account of their slender boilers, they were classified "V" in 1886.A "Saddleback"2-4-0 lurks near the trainshed in the background, most likely bound for Williamstown.
Official VR photo
Below is an 1874 diagram of Spencer Street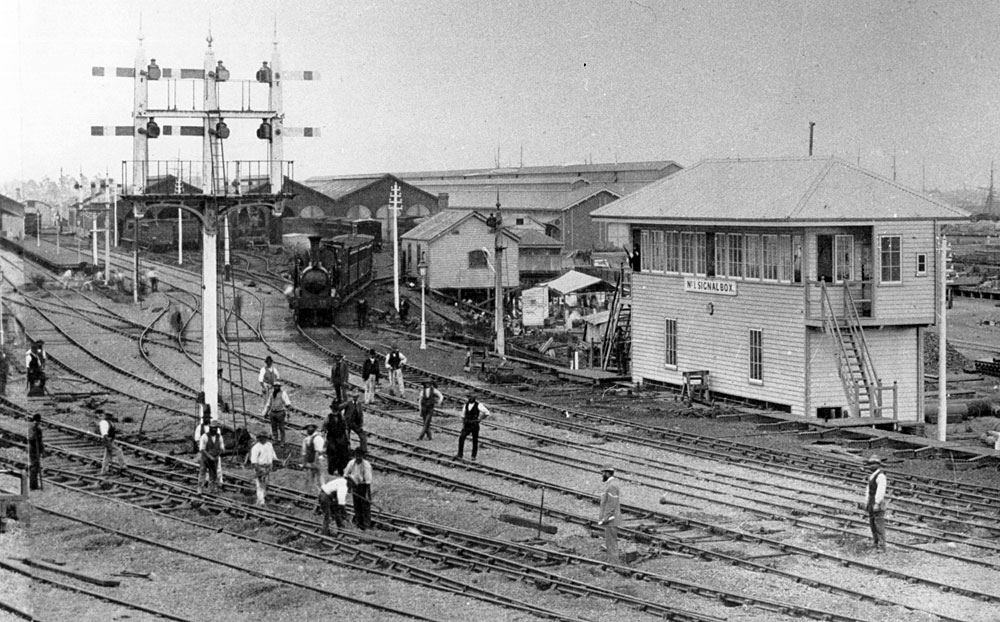 Spencer Street # 1 box was commisioned 1880? Prior to this Spencer Street was worked by hand points
Photo taken during installation of the interlocking circa 1880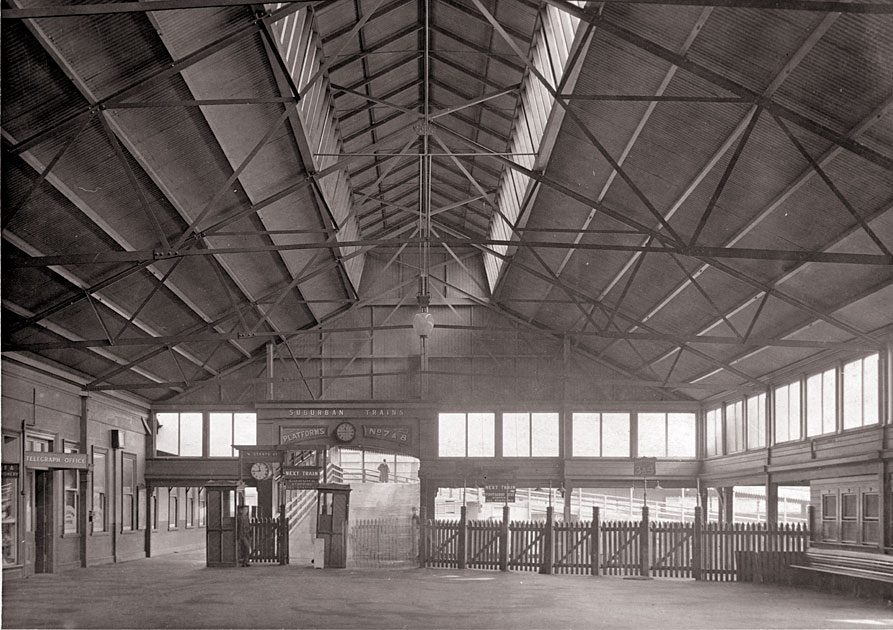 An interior view of Spencer Street station circa 1924 It is surmised that the photo was taken just prior to the major remodelling that occured in 1924. During this work the platforms were extensively re-arranged and the footbridge to platforms 7&8 was abolished. The island platforms 7&8 lasted from 1894 until 1924. The diagram below is from a 1917 signal diagram and shows the platform arrangement at this time. The photo below the diagram is simply a cropped and enlarged section of the photo above.
Although designed as a passenger loco, H 220 rarely got to perform in its intended function, sadly being relegated to goods working between Melbourne and Wodonga for its entire life. Here we see it bringing the up "Spirit of Progress" into Spencer Street.

Photo courtesy Chris Elliot collection
---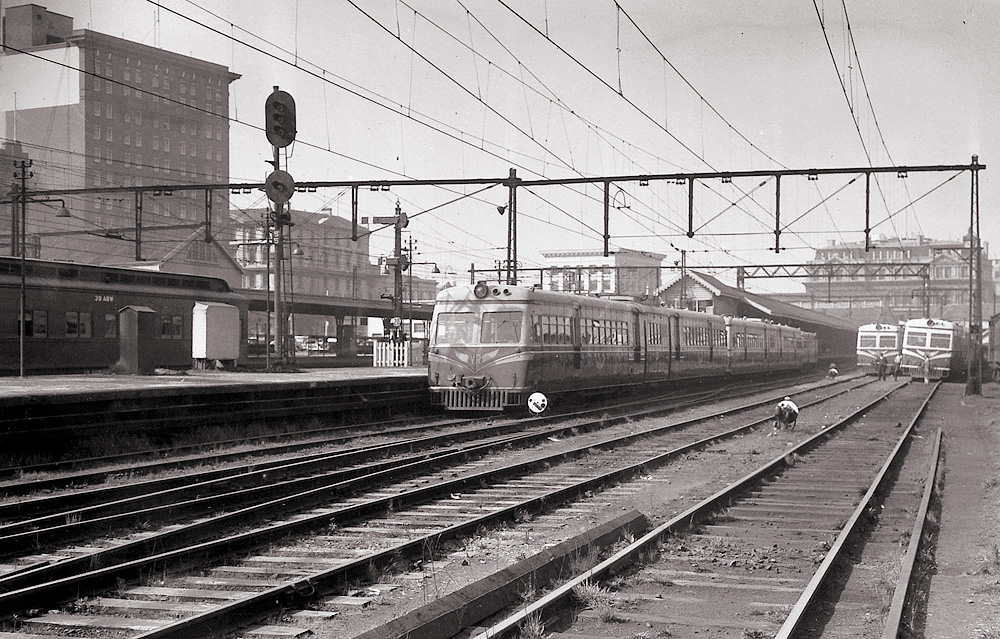 Two 280 Walkers and a trailer on a Geelong service Sept. 4 1956
Official VR photo
---

I think that this was some sort of test run/publicity train. The Overland always left Spencer St at night and this photo
appears to have been taken earlier in the day. I'd be happer to hear from anyone that could shed light on this photo. circa 1955?
---
One of my very earliest VR memories is of an S class on platform 1 at Spencer Street on the northbound Southern Aurora.
Fortunately Peter Vincent captured this fine photo that brought the memories flooding back!
March 24 1971
Photo courtesy Peter J. Vincent
Since electrification the VR maintained an "Overhead train" that was used to install and maintain the overhead system. The first such consisted of modified wooden box vans, this later overhead train was converted from obsolete six wheel and bogie horseboxes. This train shown here was at Spencer Street installimng new wire as part of the construction of the underground loop.
Dec. 12 1976
Photos courtesy Peter J. Vincent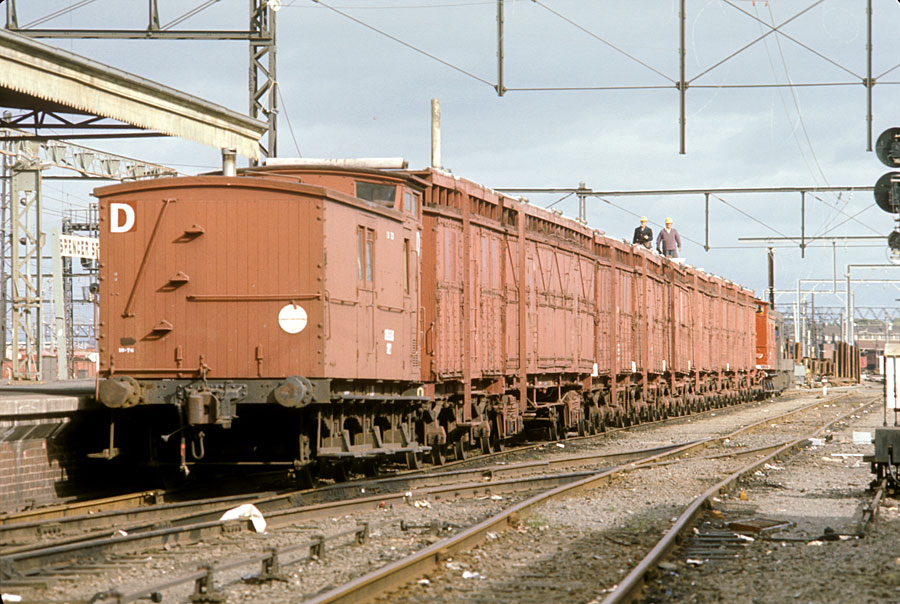 To celebrate the centenary of Harold Clapp's birthday, B 60 was put on standard gauge for a short time in 1975.
Here it arrives spencer Street with the up Southern Aurora May 1975
Photo courtesy Warren Banfield.
---

F 203 pulls the empty "Overland" cars out of platform 2 at Spencer Street on its way to the car sheds where they will be cleaned
and serviced in preparation for that nights journey to Adelaide. DERM 57 and other railmotors can be seen in the background. 1978.
---

T 413 hauls a Harris suburban car from Newport to Jolimont seen here passing through platform 13 at Spencer St. 1979

X 49 brings the empty "Southern Aurora" cars into Spencer Street from South Dynon, March 4 1978.
The usual nightly standard gauge ritual was the Spirit Of Progress" empty cars would arrive into platform 1,
the loco would detach, run around its train and couple on to the head end. The Aurora empty cars would then come
over from Sth Dynon arrive in the run around road, loco detach from its cars and sit behind the Spirit's last car. After the
Spirit of Progress departed the Aurora's loco would follow it up platorm 1, hook onto the head end of its cars, pull them out
of the run around road, set them back into platorm 1, detach, go over and pick up its Motorail and back onto its train and
await daparure. As a Wodonga big wheel fireman (1982 - 1985) I was involved in this ritual numerous times.
---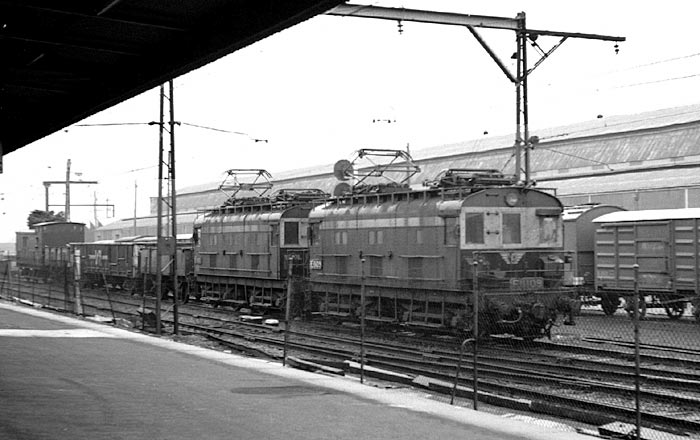 2 E class electric locos trundle past platform 14 at Spencer Street on their way back from Ringwood. 1978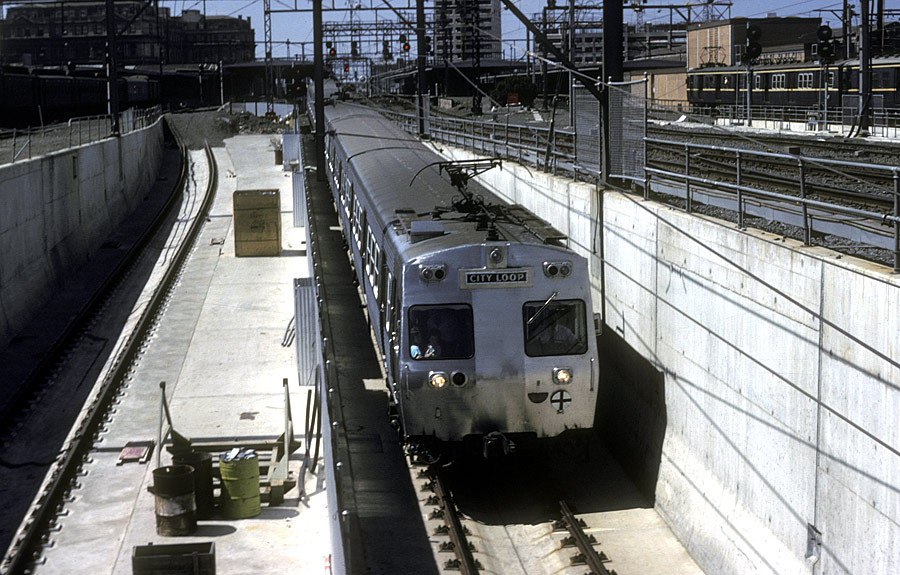 Jan. 24 1981 was opening day for Melbourne's underground. Regular loop service was preceded by this train that took
dignitaries for a trip through the Burnley tunnel making this the first passenger carrying train through any part
of the underground. Unbelievably I was the only person at the tunnel entrance!
(The track on the left is the uncompleted Clifton Hill loop track)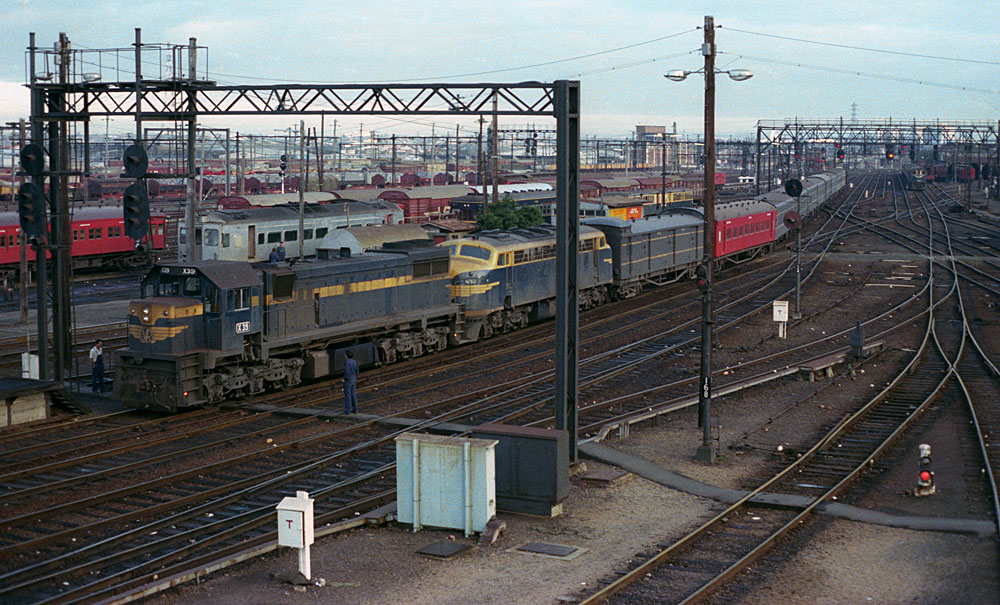 The up Mildura to Melbourne overnight train "The Vinelander" arrives platform 3 at Spencer Street, 1978. The two workers near the loco are train examiners, every passenger train arriving Spencer Street was checked by the train examiners as it arrived which involved placing their hands on the axlebox of every car to see that the bearing wasn't running hot.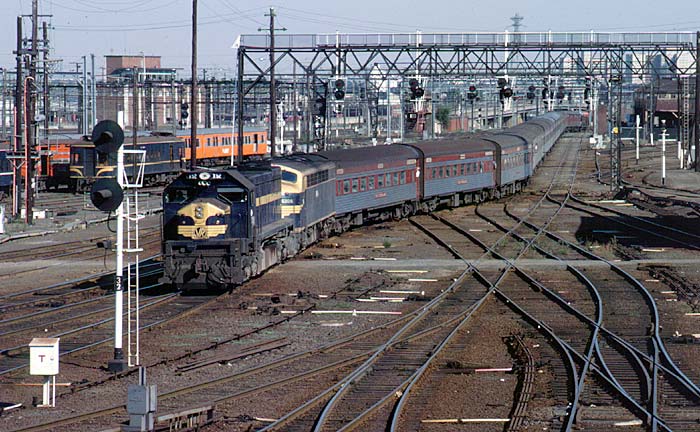 X 52 and S 304 bring "The Overland" into Melbourne's main passenger terminal, Spencer Street on Jan. 26 1985.
The Overland provided sitting and sleeping car overnight service between Melbourne and Adelaide
---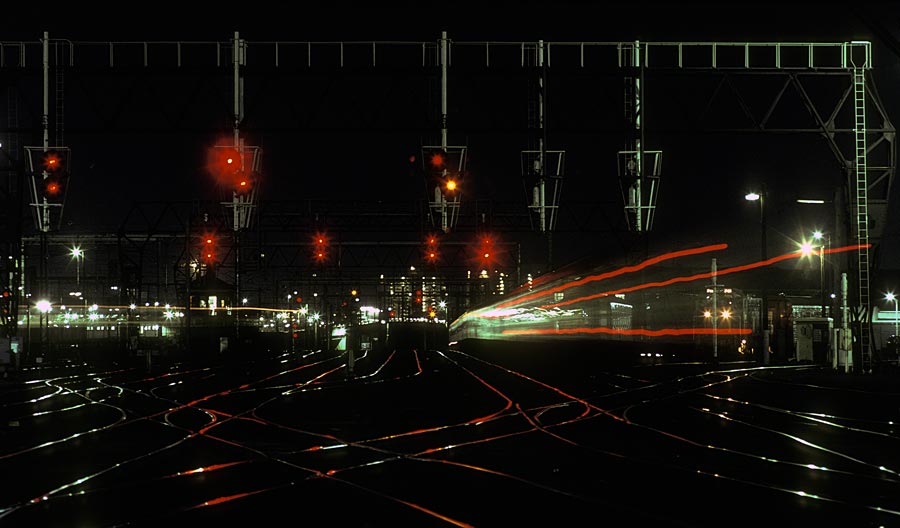 The down Southern Aurora departs Spencer Street, 1985
---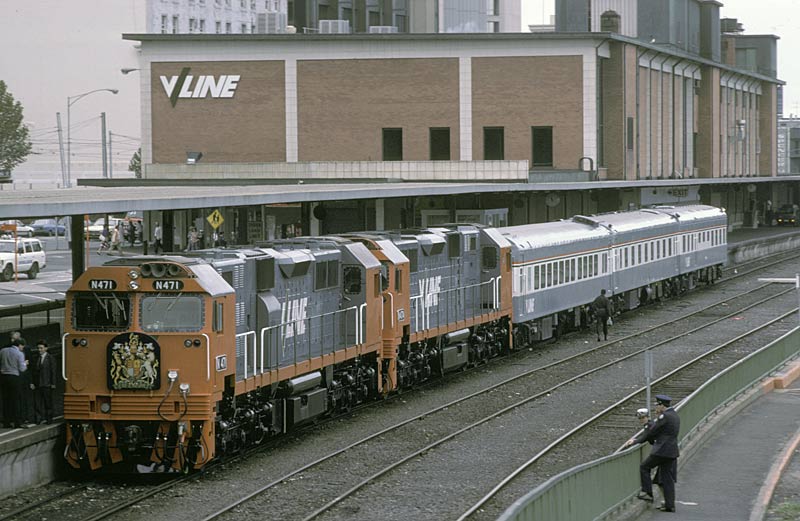 Queen Elizabeth II visted Australia in 1988 to celebrate Australia's Bicentenary. During that trip the royals made
a visit by train to Geelong. Here the train awaits departure from platform 1 at Spencer St. May 1988
---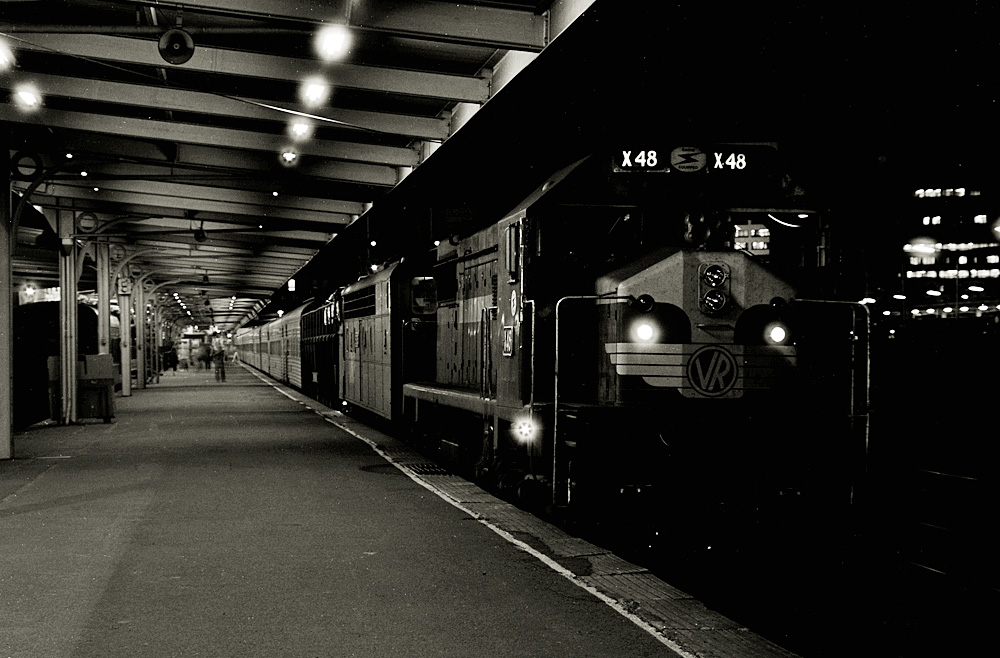 ABOVE & BELOW: The Adelaide bound "Overland" awaits departure from platform 2 at Spencer Street, 1986.
feel free to email me with any corrections or comments
page created
Wed, 2 Mar 2016