1919 Signal Diagram
1940 Signal Diagram
1958 Station Plan
ABOVE: Aa 570 on an up Melbourne pass. pauses at Woodend. circa 1900.
Note the ramped ends of the platform, the absence of the footbridge and the public foot crossing. Later photos show the public foot crossing gone, replaced by the footbridge, (footbridge built 1928)
BELOW: A similiar view taken about the same time as the photo above.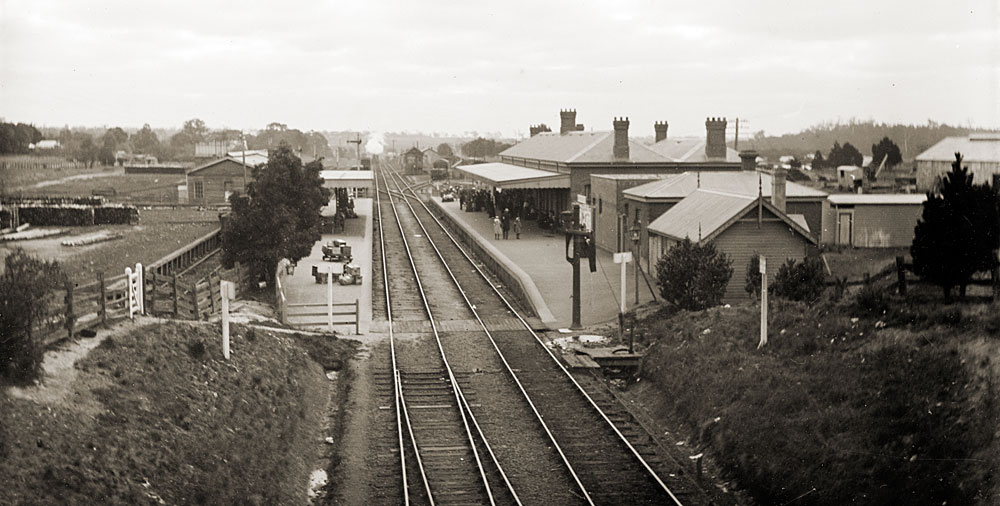 The comparison photo (below) was taken in 2006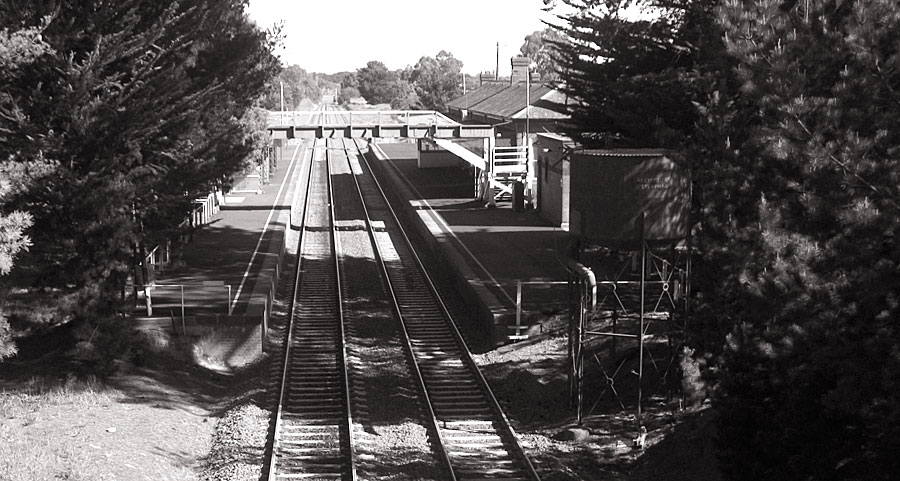 ---

A down goods headed by A2 932 at Woodend. The BPL on the right is probably a car for the Daylesford service
and the car on the left is an XYZ combination guards van, booking office, passenger car, most likely for the Redesdale service.
Photo date circa 1930's
---

An up pass arrives at Woodend about 1910, prior to the footbridge being built in 1928.
---
ABOVE: Looking north from the roadbridge, Woodend circa 1930. Does anyone know when the loco shed was demolished?
Postcard courtesy Chris Wurr collection
---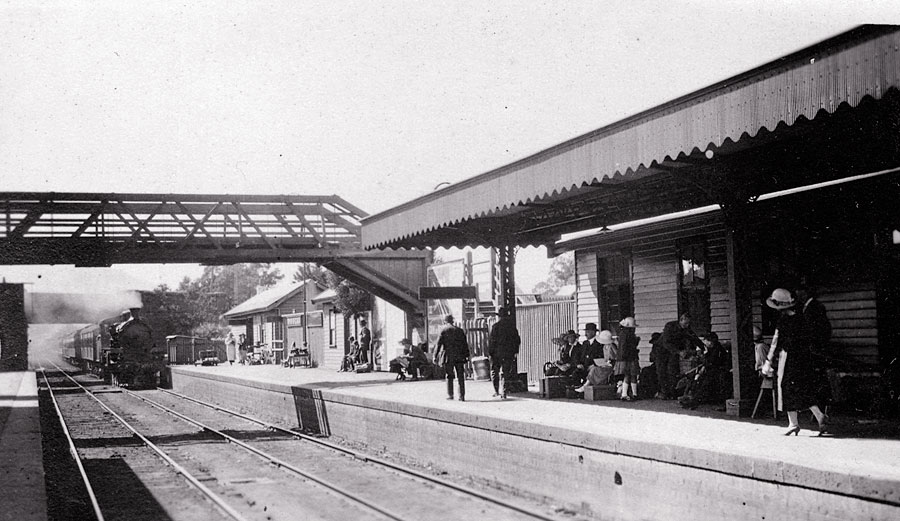 A2 1007 arrives Woodend on a down pass. circa late 1920's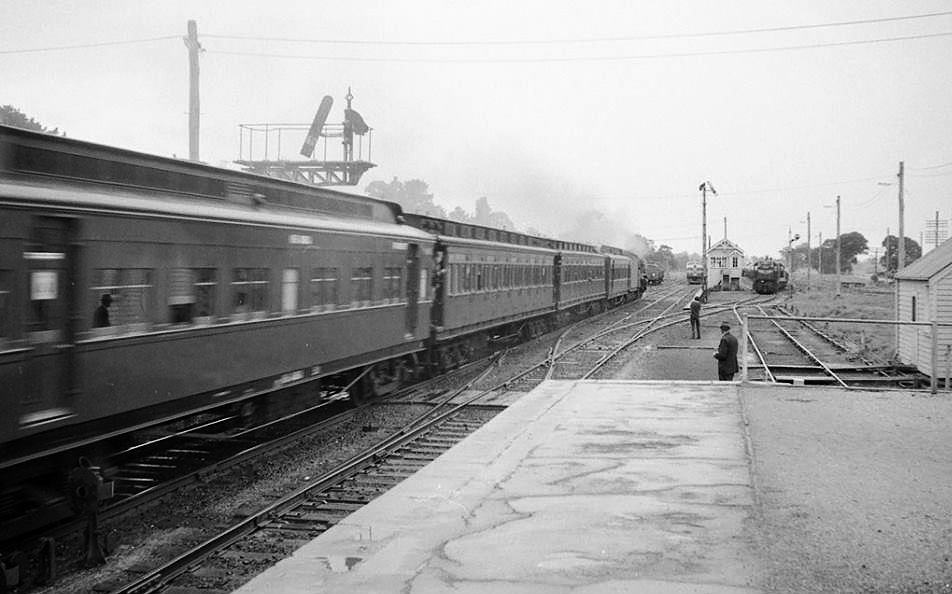 What looks like a down enthusiast special runs through Woodend whilst 2 up trains await departure.
---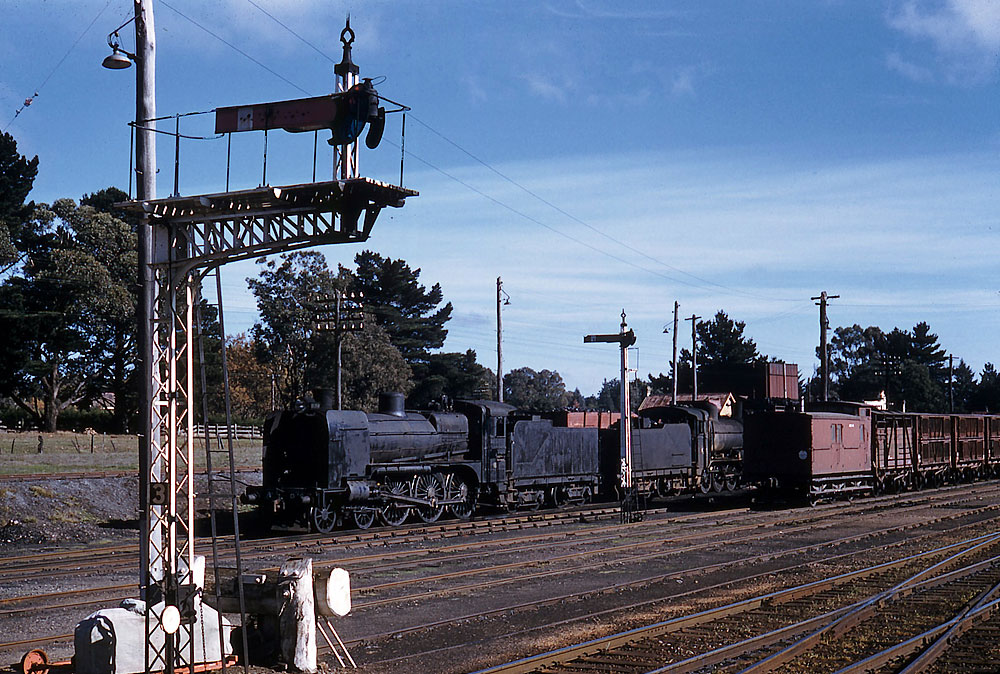 A fine morning in Woodend in 1961 finds A2 874 next to the coal stage, facing Melbourne.
Photo courtesy late Alan Wilson
BELOW: The same view in 2011
T 378 and a B class arrive Woodend in May 1970.
This was a regular Sunday working. At Woodend the T class would be detached and the B would depart with the front cars for Bendigo, the T would then attach to the remaining cars and depart for Daylesford.

Photo courtesy Tony Smith.

ABOVE & BELOW: T 404 arrives Woodend on an early morning Bendigo bound goods, March 28 1978.
---

The Vintage train to Woodend waits in the down side yard at Woodend as a wheat train departs the up side yard, mid 1970's
Photo courtesy Chris Wurr
---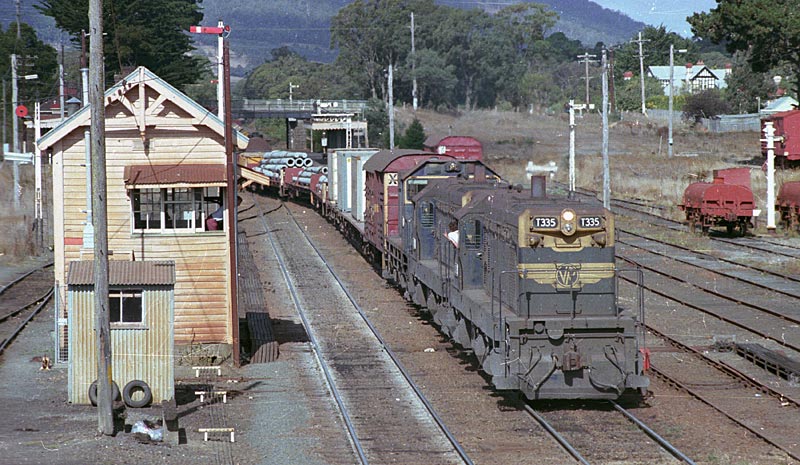 ABOVE: A down Bendigo goods with T 335-T 336-Y 160 sets back onto the up line at Woodend to allow a down pass
to run through it. April 5 1980.
BELOW: X 33 on the 1.40pm down Bendigo pass. departs Woodend.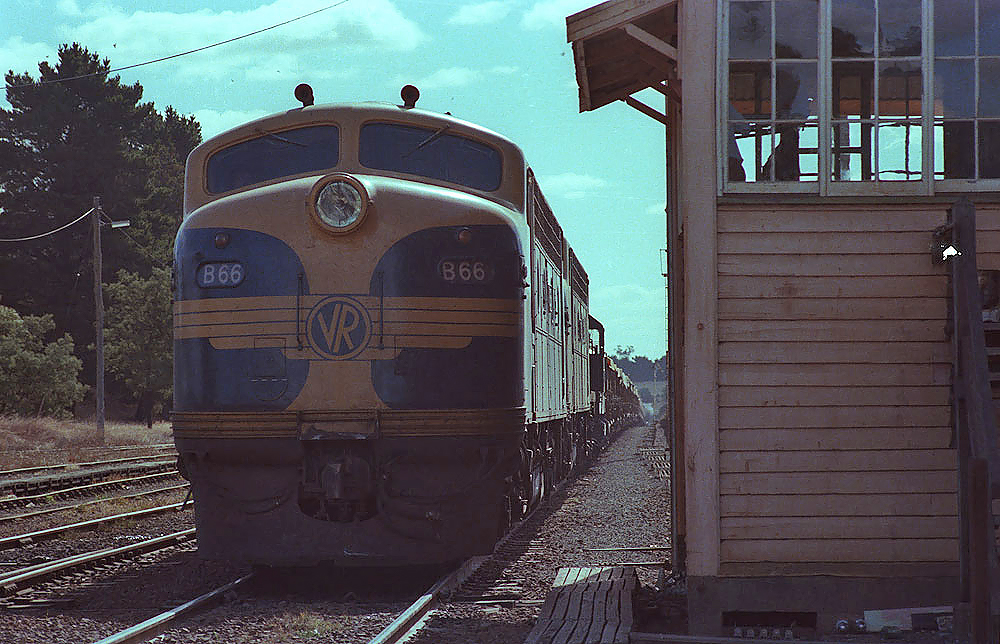 ABOVE & BELOW: Meanwhile B 66 - B 65 - T 408 - T 345 arrive Woodend on an up wheat train and are brought to a stand
as the down goods is still blocking the up line.
Woodend signalbox 1985
BELOW: The following four photos were taken in 1993 when the yard had been ripped up but the box was still in use as little more than a block post.
The box, which was built in 1891,was demolished 2 years later in 1995. 105 years of service!
Back view of Woodend signalbox June 1993
Photo Courtesy John Gilbert
Looking towards Melbourne, June 1993
Photo Courtesy John Gilbert

Melbourne end view (looking towards Bendigo) June 1993
Photo Courtesy John Gilbert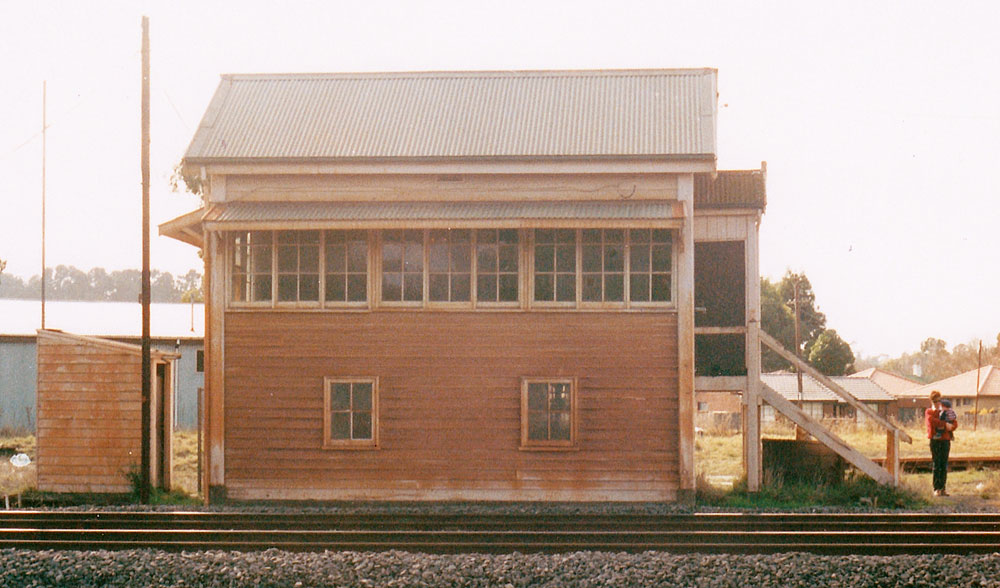 Front view June 1993
Photo Courtesy John Gilbert

A view of the turntable and water tower looking towards Melbourne.
Photo coutesy Rob O'Regan
feel free to email me with any corrections or comments
page created
Thu, 11 Apr 2013