1918 Signal Diagram
1940 Signal Diagram
1981 Signal Diagram
Drawing of Sunbury water tank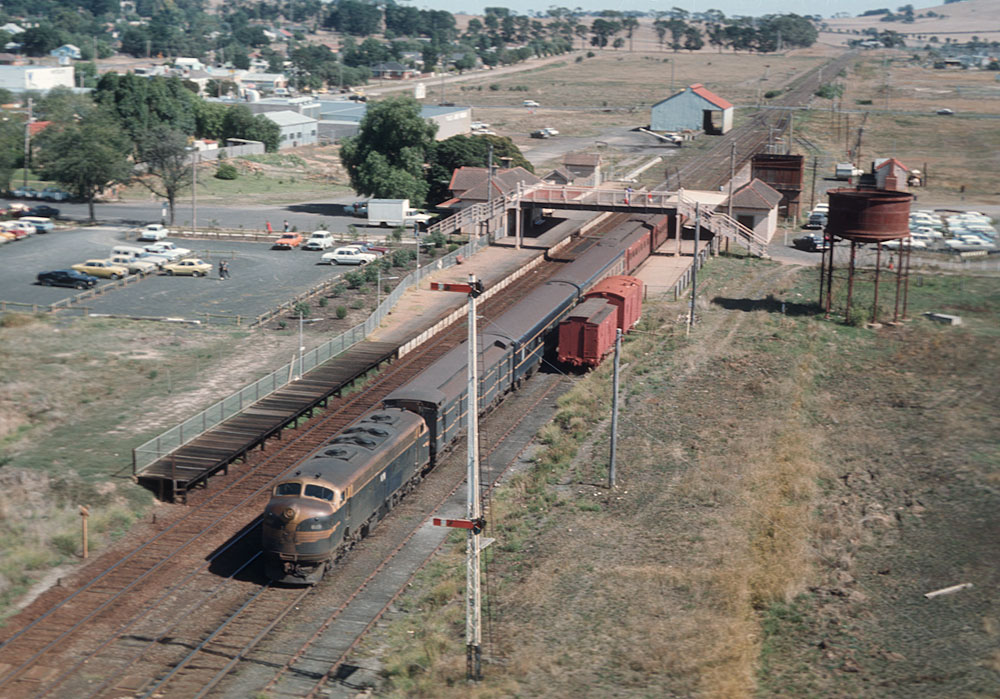 Viewed from the top of the grain silo, B79 heads the Down Swan Hill pass through Sunbury one sunny afternoon in March 1976. Note the co-acting Up Home signals on their tall lattice mast, and chaired rail in the siding with a pair of 4 wheel ''bug huts''at the dead end. The grimy state of the loco was all too common, as was the lamentably low power to weight ratio of the average passenger train of this period. The surroundings are still semi-rural , a contrast to the current scene of supermarkets and cinemas with their associated carparks. Surprisingly enough, both the round and rectangular water tanks are still standing today amid a sea of 'tar and cement' but the ancient corrugated iron goods has vanished without trace.
Caption and photo courtesy Trevor Penn.

Looking towards Melbourne, hard to date this photo but the gas light indicates its pre electric light at Sunbury. Note that the mainlines have
been replaced with flat bottom rail.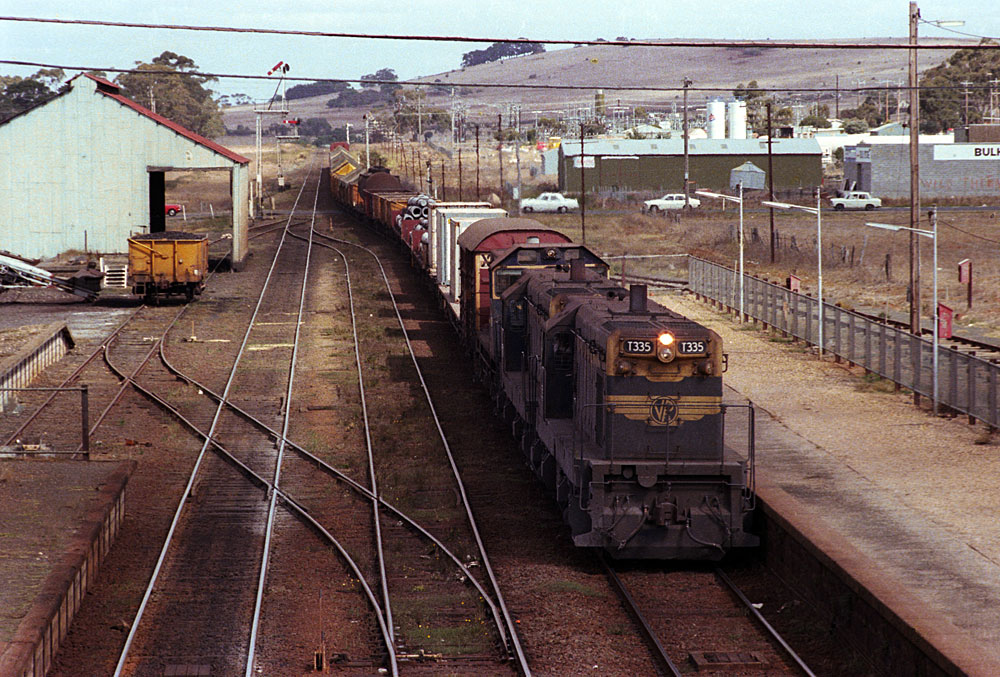 ABOVE & BELOW: T 336 - T 335 - Y 160 on a down Bendigo goods arrives Sunbury (above) is put away in the centre road (below) to allow a down
Kyneton (280 Walker railmotor) to run through it. April 5 1980.
---

ABOVE & BELOW: X 48 on the down "Great Northern Limited" runs through K 190 on an enthusiast special which is sitting in the centre
track at Sunbury. 1979.

T 413 arrives at Sunbury on the 1745 down Kyneton service, Dec. 15 1983
Photo courtesy Warren Banfield.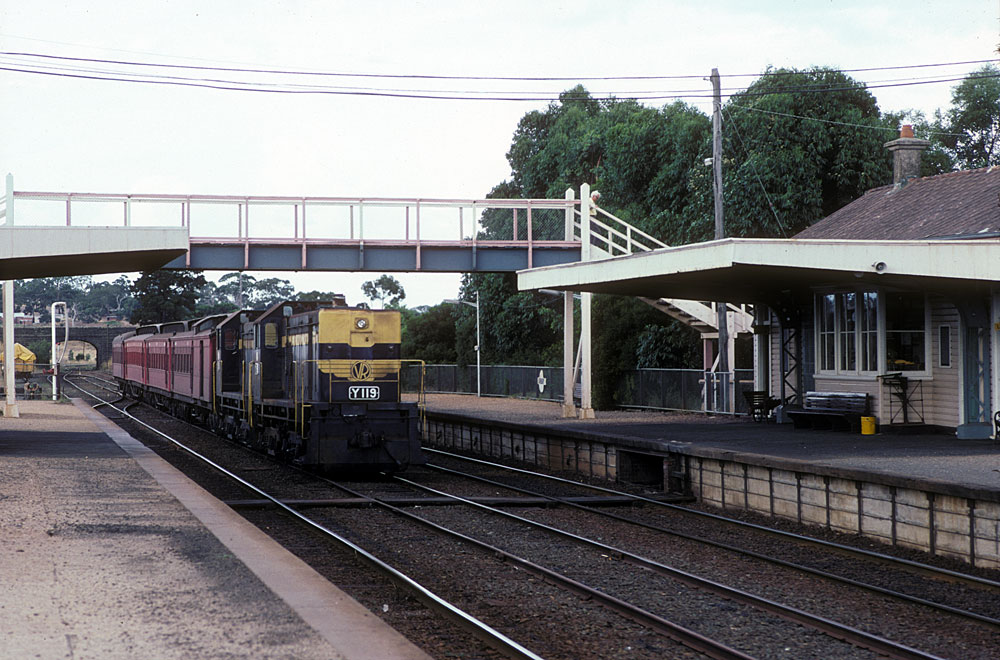 Y 119 and 108 in the centre road, probably running empty cars to Melbourne, Feb 15 1984
Photo courtesy Warren Banfield
---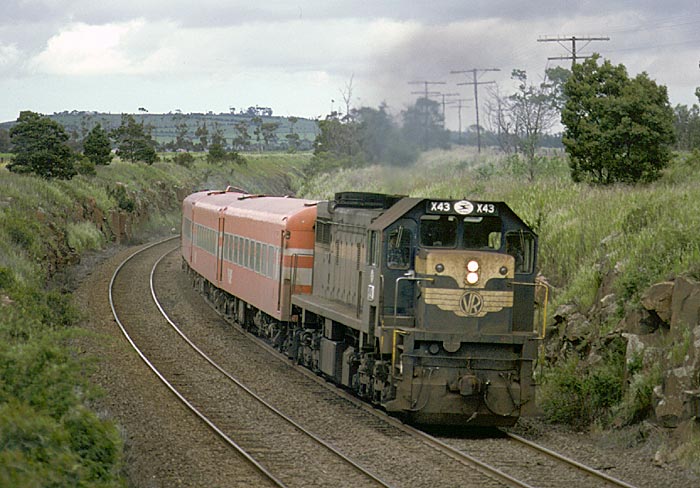 The "Great Northern Limited" races up Sunbury bank on its way to Bendigo, Oct. 25 1985
---

A DRC and trailer ascend Sunbury bank while running a Spencer St. to Kyneton service. Oct. 25 1985.

An up Kyneton pass approaches Sunbury, 1987

A very early view of the down side staion buildings, probably taken in the 1860s.
Official VR photo

Looking towards Melbourne circa 1910

An up afternoon Sunbury local awaits departure time for the journey back to Melbourne. 1988.

The last Sunbury local sits in the down platform prior to returning to Melbourne, Nov. 16 2012.
Electric services commenced on Nov. 18 2012 thus removing the need for these loco hauled trains.

3 up special passenger trains at Rupertswood on down line Dec 1938 at 3.00pm
The trains were at Rupertwood to take catholic students
back to Spencer Street after the Eucharist festival at the nearby
catholic college. (Thanks to Peter Kelders for help with this caption)

A2 855 is seen hauling a 7 car Tait train near Rupertswood for a Catholic festival special, Nov 3 1940
The article below is from the Sept. 1939 edition of "The Railway Magazine" and gives an excellent description of this operation by
well known VR rail enthusiast John Buckland.
Thanks to Fraser Brown
feel free to email me with any corrections or commentspage created Thu, 5 Nov 2015