1913 Signal Diagram
1928 Signal Diagram (A & B boxes)
1955 Signal Diagram (A & B boxes)
1969 Signal Diagram (A & B boxes)
1969 Signal Diagram (C & D boxes)


Sandhurst station, not long after opening.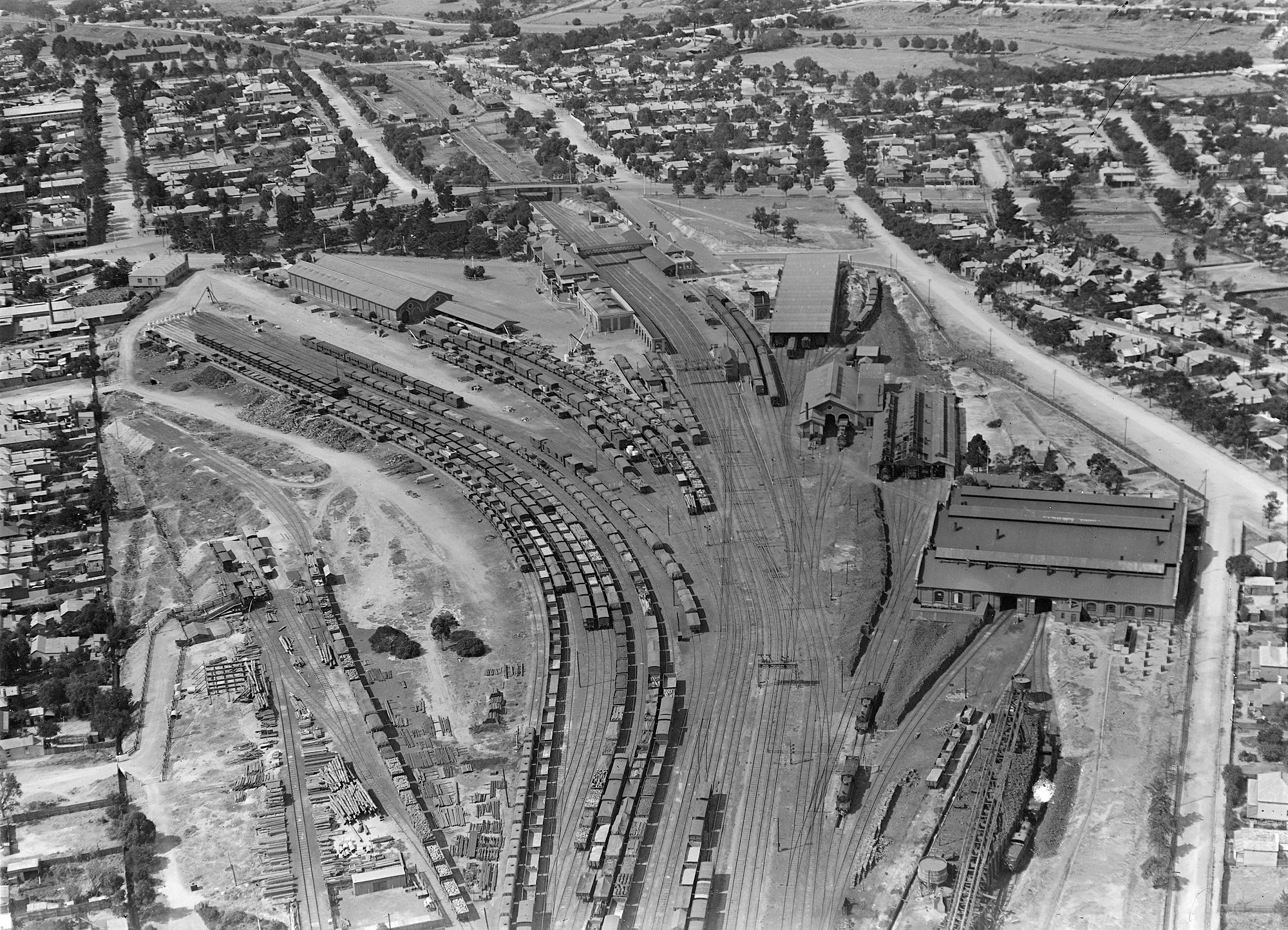 Aerial view of Bendigo looking North circa 1925
Photo courtesy Charles Daniel Pratt (State Library of Victoria collection)


The down side station buildings prior to being burnt down on 23 December 1965, photo circa 1930.

Busy times at Bendigo, looks like an imminent arrival on the up platform as Dd 701 awaits departure on a down goods and a pass. is seen on the
down platform. 1928.

---
The following three photos show a 280 hp Walker (number unknown) preparing to depart Bendigo for Echuca and Deniliquin
in April 1951 just after the Walkers were introduced. I don't know how long the Walkers lasted in this service as DERMs seemed to reign
supreme north of Bendigo.
Official VR photos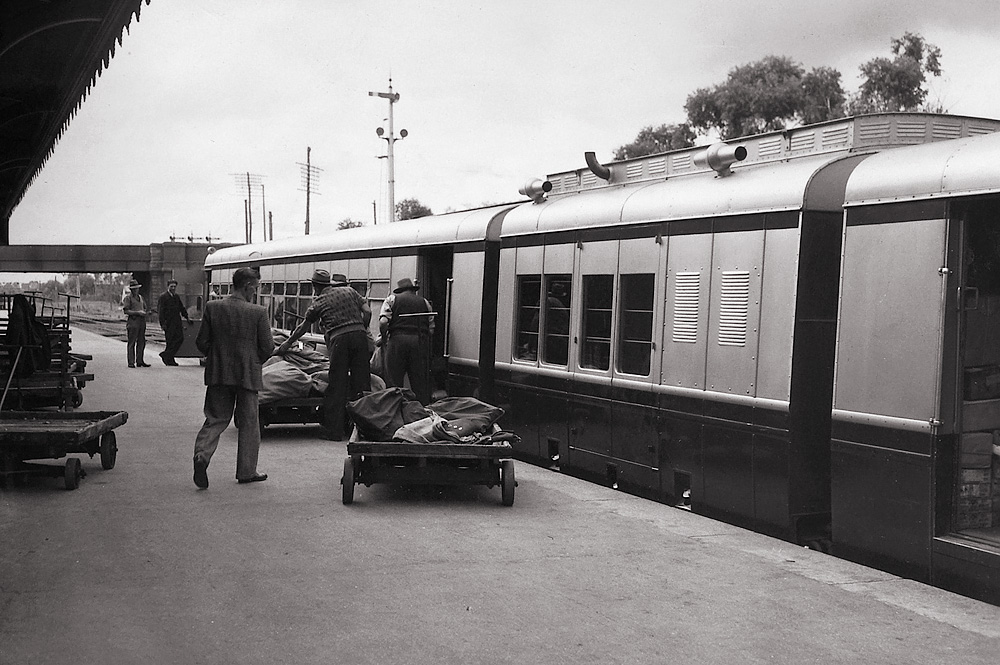 ---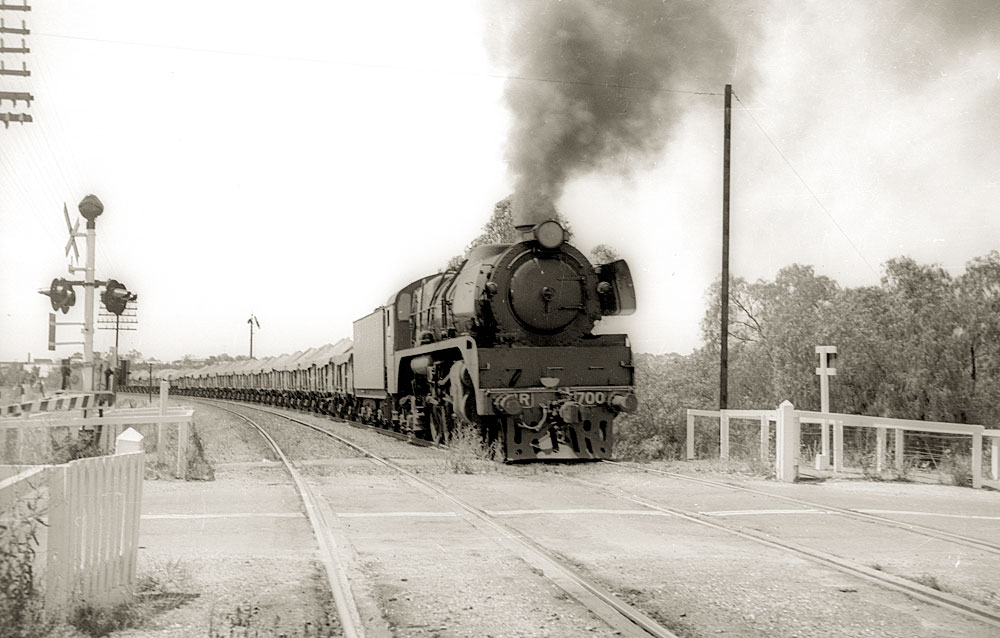 R 700 leads an up Elmore wheat train into Bendigo.
The train is about to cross the Mundy St level crossing between Bendigo C and D boxes which was a double line block section,
this section was rationalised to single track in 1989. These were very early boom gates being installed in 1959. Jan 25 1964
Photo courtesy John Ward

A pair of Y's trundle over the Williamson street crossing and past Bendigo C box as they enter Bendigo yard from the north.
Late 1960's, photo courtesy Bill Cray.
BELOW: The same view in 2012
Photo courtesy Chris Wurr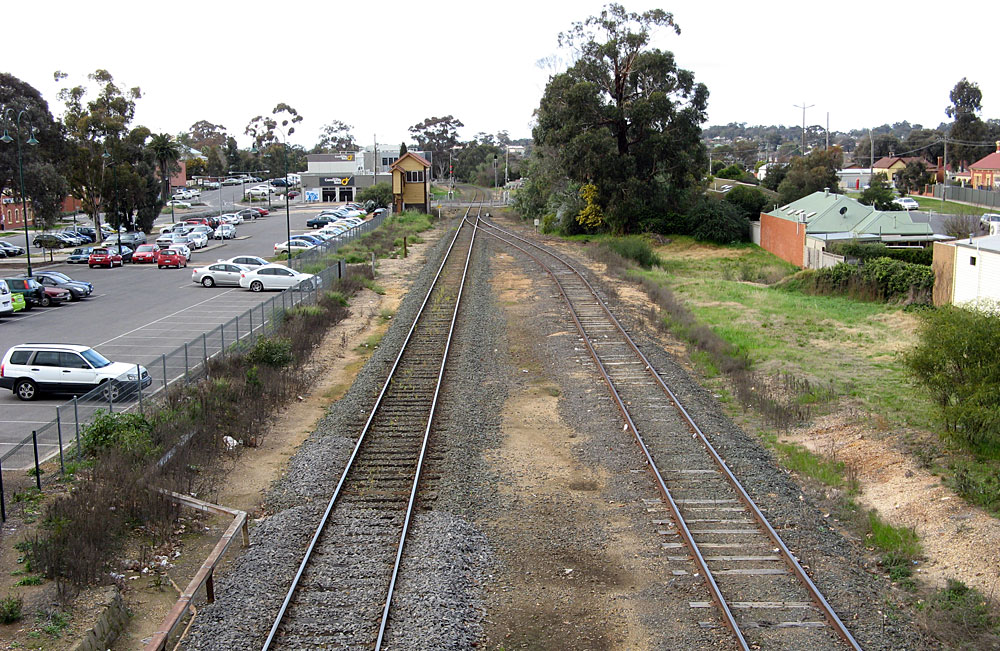 ---

Bendigo loco has appeared as a background in countless photos over the years but here it is captured beautifully as the main subject.
The night/time exposure gene runs strong in the Wurr family!
Photo courtesy Michelle K. Wurr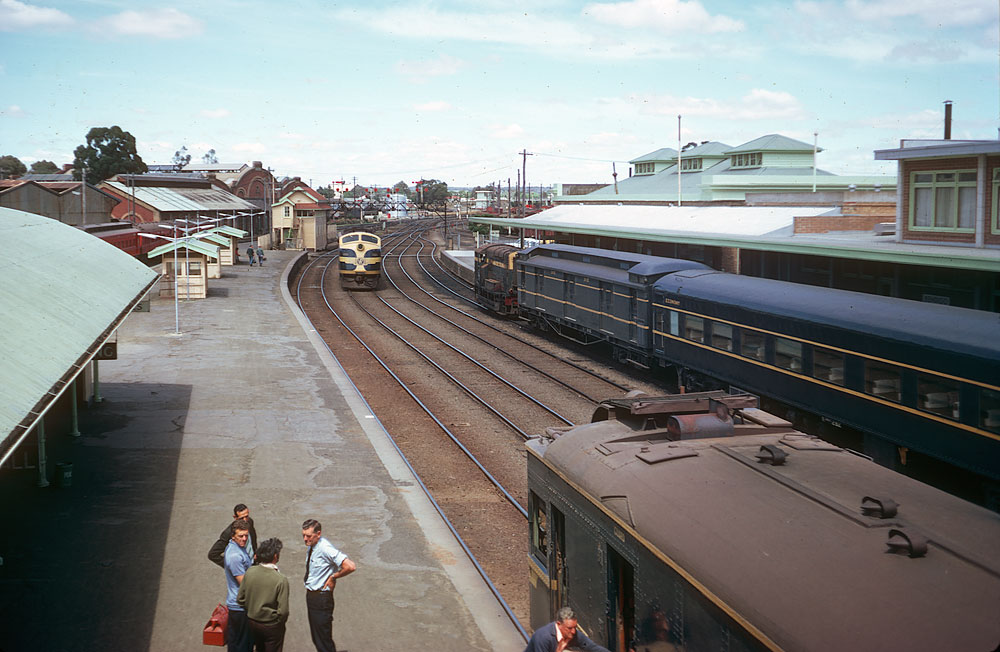 The view looking south in 1974, a DERM has arrived from the north and the down Great Northern Limited is seen on the main platform.
Photographer not known.
---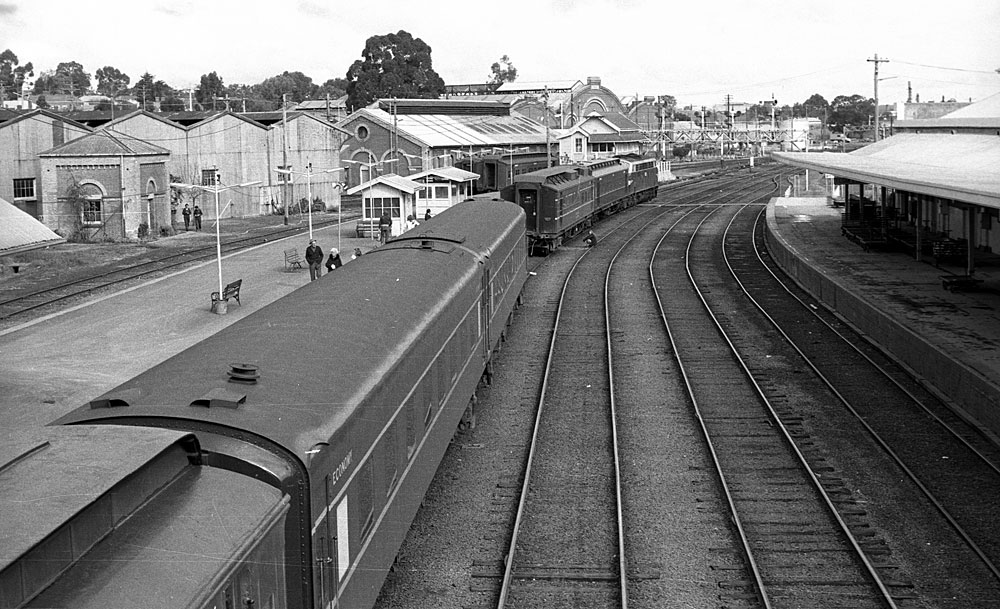 The noon up Bendigo pass. puts its train together at Bendigo in 1978.
The photo below shows the same view 29 years later, in 2007.

Photo below courtesy Chris Wurr

F 214 interupts its Bendigo yard shunting to take a rake of passenger cars over to the car sheds. March 1978. Since this photo was taken the two centre tracks have
been removed.

---

S 313 shunts passenger cars around Bendigo in 1978. The two centre tracks shown here were removed in 1989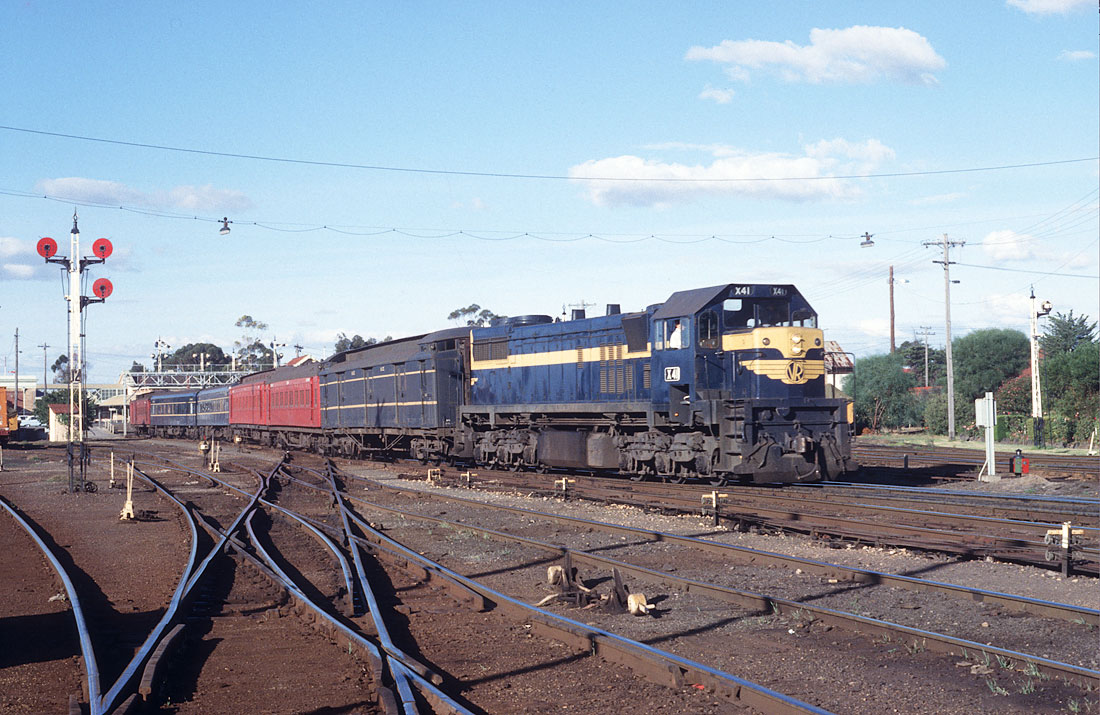 I made many trips to Bendigo as it was my family's home town. On a quiet Saturday afternoon in 1977, X 41 gets the Swan Hill to Melbourne pass on its way.
---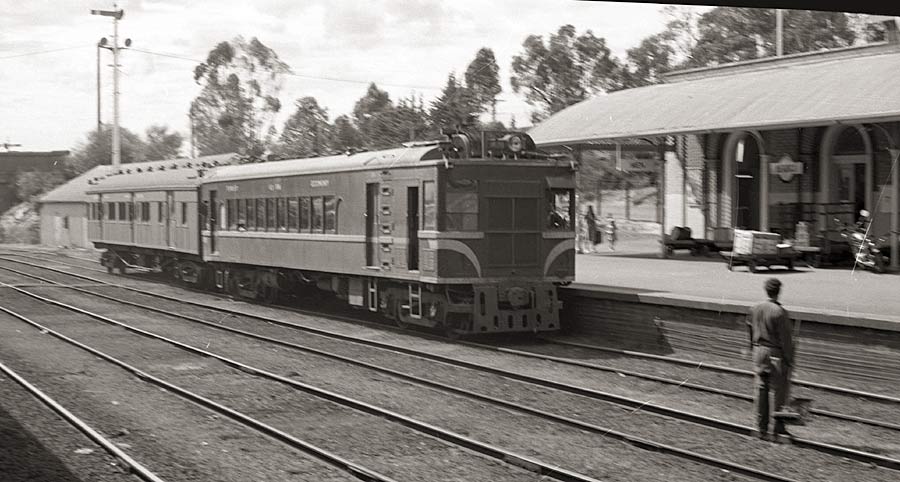 An up DERM arrives Bendigo's #2 platform 1978. Up until the late 70's quite a few passenger services operated by DERM's
originated andterminated at Bendigo including services to:
Echuca/Deniliquin (last run Jan. 11 1979)
Cohuna (last run Aug. 24 1977)
Sea Lake (last run May 7 1977)
Korong Vale/Ultima/Robinvale (last run June 3 1978)
Balranald (last run Nov. 6 1975)
Photo courtesy Kent Smiley
ABOVE: Looking north with Bendigo C on the left. March 1970.
BELOW: J 550 arrives Bendigo and is about to pass over the Williamson street crossing.
Both photos courtesy David Langley
---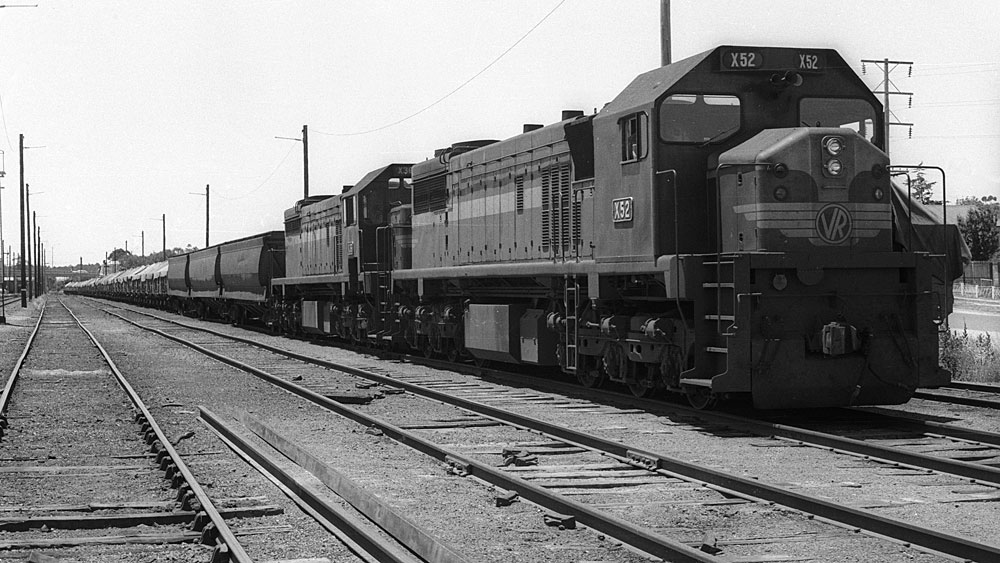 X 52 - X 36 at the head of a Bendigo to Nth Geelong wheat train at the height of the 1978-79 wheat season.
The train consisted of 3 GJF's - 50 GY's of wheat for a total weight of 1,787 tons and left Bendigo at 1.20 pm.
After X 36 overheated at Castlemaine and 4 stops down Macedon to pump air the train finally arrived at Sunshine at 9.00pm. Dec. 22 1979
---
ABOVE: The view from the Thistle St bridge looking north towards Bendigo. Bendigo A box is seen on the left.
The yard was extensively enlarged between 1915 - 1921 and most of the yard you see dates from then.
Photo courtesy David Langley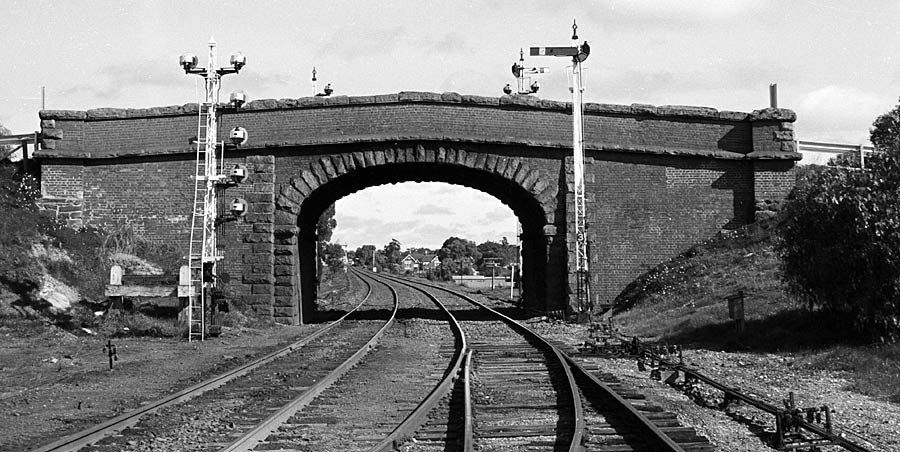 The view from outside Bendigo A box looking towards Golden Square and Melbourne. The road overbridge is Thistle street.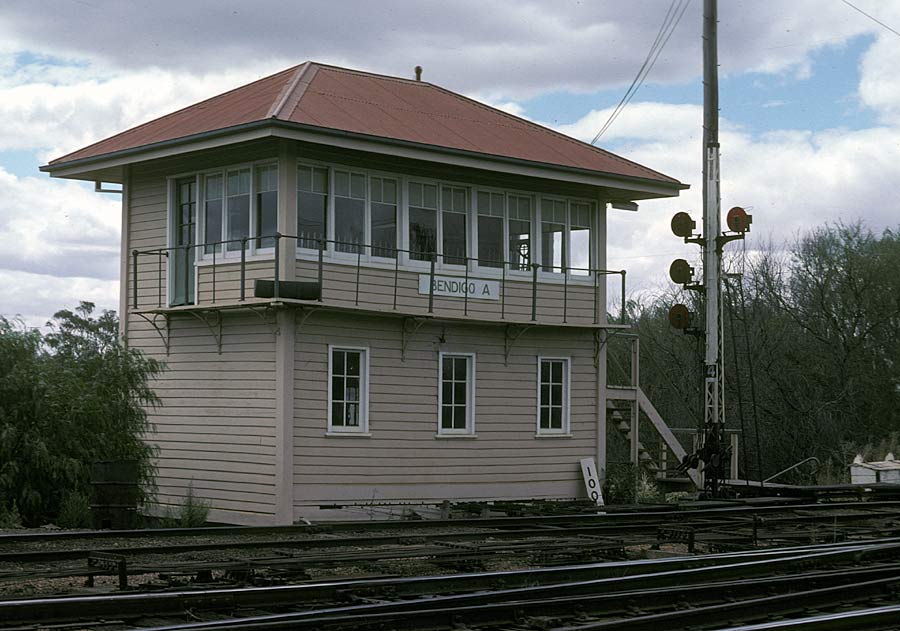 As part of a yard enlargement project, this Bendigo A box was constructed in 1921, exactly 100 miles from Melbourne
it controlled all movements into and out of Bendigo at the Melbourne end, it was abolished in May 1990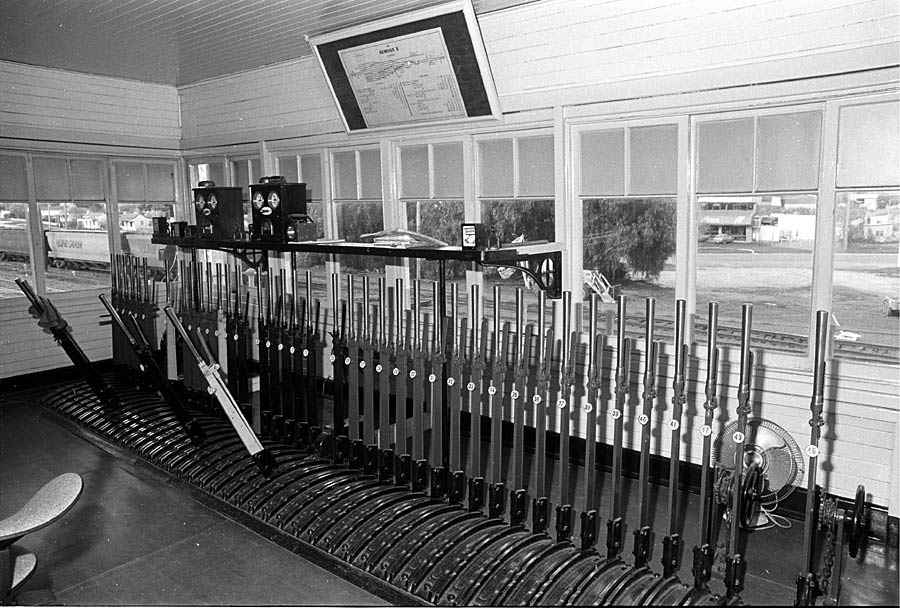 Inside Bendigo A box. 45 lever frame and two double line block instruments. The left hand instrument was to Bendigo B box,
the right hand instrument was to communicate with the next "switched in" box towards Melbourne.
Bendigo A box itself could switch out. 1988.
---

Bendigo B box controlled all movements in and out of the platforms at Bendigo. It was in use until May 1990 when it was replaced
by three position signals controlled by a panel in Bendigo station. The box and frame are still standing. Photo date 1988.

Inside Bendigo B box as the signalman pulls a point lever. 1988
feel free to email me with any corrections or comments
page created
Thu, 19 Nov 2015