1931 Signal Diagram
1944 Signal Diagram
1978 Signal Diagram
K 164 sits in the platform road at Wodonga, destination unknown. The signalbox shown, Wodonga B box, went in May 1964 as part of the standard gauge project. photo date, early 1950's
Official VR photo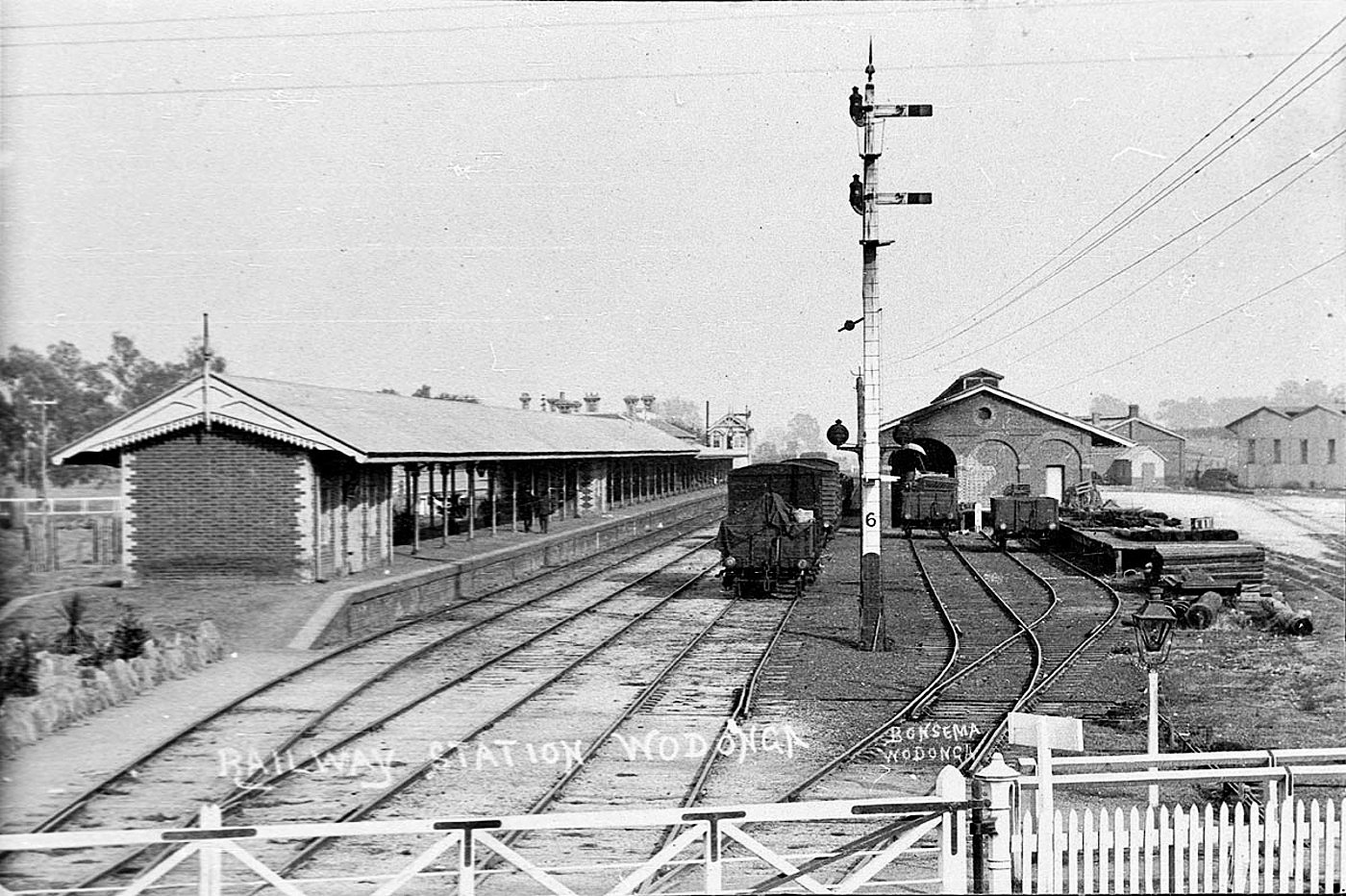 A very early view of Wodonga taken from B box (High St) looking towards Melbourne, probably 1900.

The signalman at Wodonga B box prepares to recieve the staff from the fireman on a up Albury passenger train. circa 1900.
ABOVE: The up Sydney Express departs Wodonga on its journey to Melbourne.
This photo was taken by famous Wodonga driver George Lynch.
The eliptical roof CE van helps date this photo as the first one didn't appear until 1924
Electric headlights started appearing in 1926 and were first utilised on the Sydney and Adelaide expresses
which means the photo was taken sometime between 1924 and 1926.
Thanks to Uncle Trevor for help with the caption.
---

Wodonga looking towards Albury circa 1911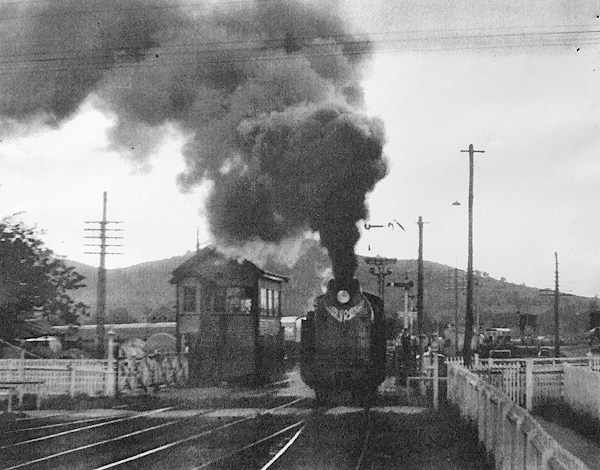 ABOVE: In the last days of steam hauled Spirit of Progress, we see the up SOP passing Wodonga B box 1953
BELOW: Same train, almost the same location, a diesel hauled SOP swings around the curve into Wodonga. 1954
ABOVE: It appears quite a few photographers braved the perilous journey to the top of the coal stage, this view was taken after the standard gauge opened (1962), but judging by the road vehicle, not too long after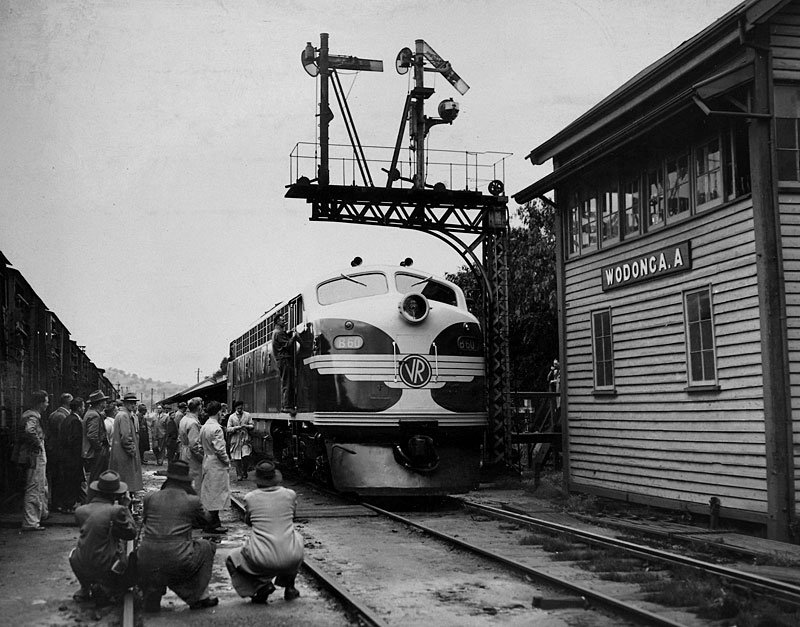 B 60 on its delivery run, sits beside Wodonga A box. July 1952.
Official VR photo.
---

This photo doesn't look like it belongs on a webpage dedicated to VR but the hiring of Commonwealth
Railways locos and through running with N.S.W. meant that scenes like this became common. The GM
was running the 1115 down Albury goods which was put away in Wodonga loop to cross the up
"Intercapital Daylight" Dec. 8 1984
---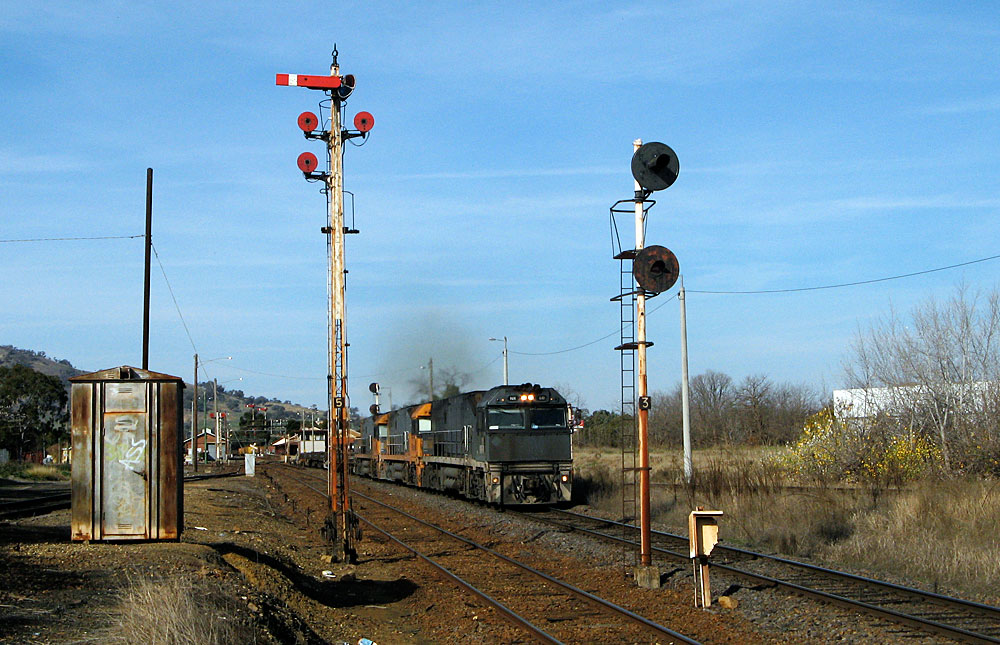 A Melbourne bound standard gauge goods departs Wodonga. This area is now devoid of trains due to the Wodonga bypass.
June 1 2008
feel free to email me with any corrections or comments
page created
Mon, 30 Jul 2012