Z guards vans
| | |
| --- | --- |
| Number in Class | |
| Number group | 1-746 |
| Construction period | 1889 - 1951 |
| In service | 1910 - late 70's |
| Where built | various |
| DIAGRAMS | |
| More photos | |
| Modeling | SEM makes a great HO kit. |

Perhaps nothing signifies the Victorian Railways as much as a Z van. Like grandfathers axe they went through both underframe and body rebuilding. They had no toilet facilities nor electric light., stoves were fitted in the mid 50's. By the late 70's there were very few Z's left as most had been converted to ZL's. The Z's that were left were mainly in non-revenue service

1 - 265 were built as "D" vans and reclassified to Z circa 1910

1 - 626 were 3 axle. 627 - 746 were 2 axle

The photo above shows the unblanked cupola windows and the double roof which was a feature of early Z vans.

Classes that came from Z vans include:

ZB: ballasted van (3 extra tons tare)

ZP: dual coupled, able to run at 60 MPH

ZZ: a bogie version that ran for a short time in 1958 - 1960

D 4. This photo appeared in the 1894/1895 annual report and is the only decent photo I've ever seen of a D van.
This was the second D 4, it was into service March 29 1889 and ended up as a breakdown van at Ararat until it was
scrapped in 1973
When the program to autocouple vehicles started, vans converted were identified with a letter A in the corners. circa 1950 until circa 1959.
Photo courtesy Peter J. Vincent
---
Z 593 was attached to the breakdown train based at South dynon. Note the blanked doors and different position of the chimney, it also had a sliding door cut into the non cupola end for communication into the crew car. Photo at South Dynon 1977.
---
---
Above and below, Z 602 at Bendigo, March 1978
---
Z 13 was assigned to the Dimboola breakdown train, photo at Dimboola, Feb 1977
Photo courtesy Rob O'Regan
---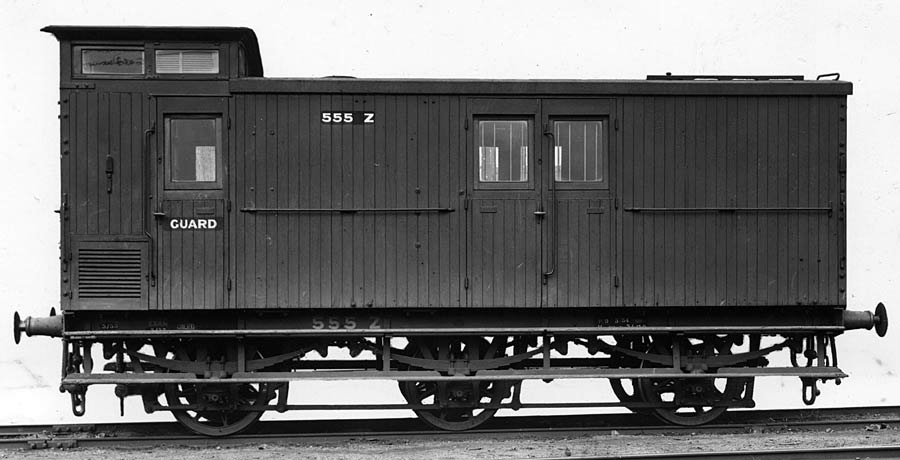 ABOVEZ 555 in "as built" condition circa 1934, before auto coupling. Built June 1925, autocoupled May 1935, scrapped June 1956.
Over the years the Z's recieved quite a few modifications including long couplers, gussets between roof and cupola, stiffeners along the bottom of the planks, stove/chimney, blanking of centre windows, double roof, blanking of dog compartment.
Photo courtesy Victorian Railways
BELOW Z 174 at Newport, March 1978, after many years service.
---
In 1958, 2 axle Z 742 was fitted with bogies, it was converted back to a 2 axle ZL in 1960.
Official VR photo
---

Unknown Z van in 1903, if this date is correct it would have been classed "D" at the time, the Z class did not come about until 1910
---
BELOW: Two views of Frank Kelly's superb 4mm scale model of Z 29.
page last updated Mon, Nov 12, 2012