ALX automobile transport
ALX 1 showing the fully enclosed sides of the first group built
| | |
| --- | --- |
| Number in Class | 58 |
| Number group | 1 - 58 |
| Construction period | 1962 - 1970 |
| In service | 1963 - end |
| 1979 recode | VMBX |
| Where built | Newport |
| Diagram | |
| PJV webpage on this class | |
| Modeling | |

The ALX's saw almost exclusive use on interstate freights carrying finished cars from Melbourne to Sydney and Adelaide.

The 3 main variations are shown: closed and open sides.

| | | |
| --- | --- | --- |
| #group | Built | Notes |
| 1 - 8 | 1962 - 1963 | fully closed sides (built as ALF) |
| 9 - 22 | 1963 | fully closed sides |
| 23 - 42 | 1967 - | ex MLX, 2 parallel side strips, most rebuilt to fully enclosed sides |
| 43 - 58 | 1969 - 1970 | completely open sides |


ALF 1 as built, 1962
Official VR photo


ALX 2 at Nth Geelong yard, Sept. 20 1978
Photo courtesy Geoff Winkler
---


ALX 18 at Upfield loaded with XD Falcon's, May 19 1981
Photo courtesy Rob O'Regan
---

ALX 36 at Dry Creek (S.A.) 1979
ALX 37 is an ex MLX, this group had different sides until converted to fully covered.
Photo courtesy Peter J. Vincent.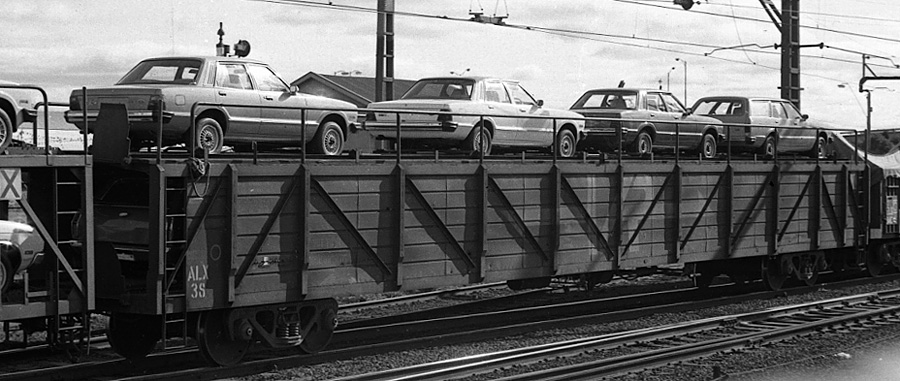 ALX 38 circa 1978
Photo courtesy Kent Smiley
---

ALX 44 shows the completely open design of the last group built. At Nth Geelong yard Aug. 10 1978
Photo courtesy Geoff Winkler
---

ALX 55 at Dry Creek Sth Aust. 1979.
---

VMBX 56 at Albury, Aug. 1983
---
End view of ALX 36, note the dual (bifuricated) brake pipes, this was common on long vehicles to avoid the brake pipe hoses pulling apart on curves.
Page last updated Sun, Mar 11, 2012