ELX 16 in "as built" condition. Note the lack of any tarpaulin support or lashing bars (lashing rings instead)


ELX 44 at Nth Geelong yard. Feb 6 1978
Photo courtesy Geoff Winkler
---
ELX 97 built August 1963. Note: no protective guard around the grade control/load compensating equipment
The following numbers were built with "heavy duty" sides: 52, 58, 66, 67, 68, 72, 73, 91 - 106 (total 23) as shown in the photos of ELX 97 (above) and ELX 102 & 105 (below)
ABOVE: ELX 102 built Sept. 1963. photo at Nth Melb, 1978
BELOW: ELX 105 at Geelong April 30 1978
Photo courtesy Geoff Winkler
---

ELX 212 at Geelong. Feb. 2 1978
Photo courtesy Geoff Winkler
---
ELX 223 built June 1969, to VOBX March 1980.
---

ELX 1032 (built March 1975) with full ridge gear (tarpaulin support) Compare the location and number of lashing bars to the photo of ELX 223. Very late ELX's had square beading along the tops of the sides.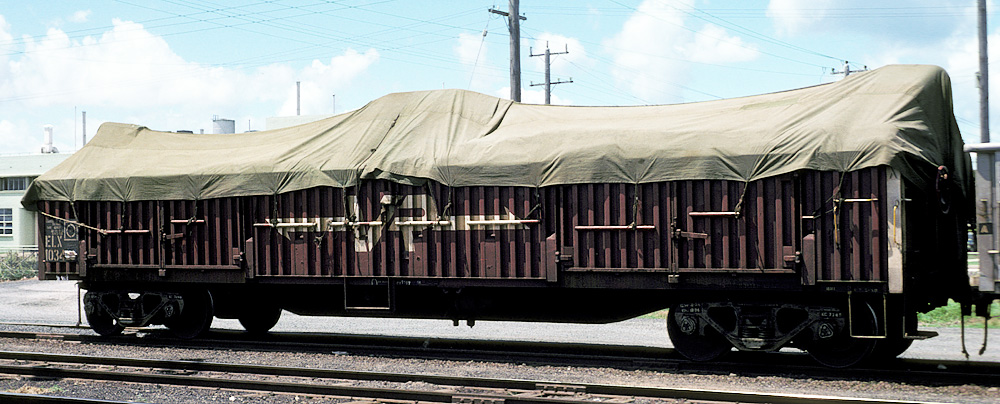 ELX 1034 at Nth Geelong yard. Feb. 6 1978
Photo courtesy Geoff Winkler
---
ELF 1 as built, 1961. In later years, the presence of load compensating equipment was signified by a white square near the number.
Official VR photo
---
ELF 7 as built, circa 1961, note combined grade control/load compensating symbol, (circle inside square next to class and number)
Official VR photo
---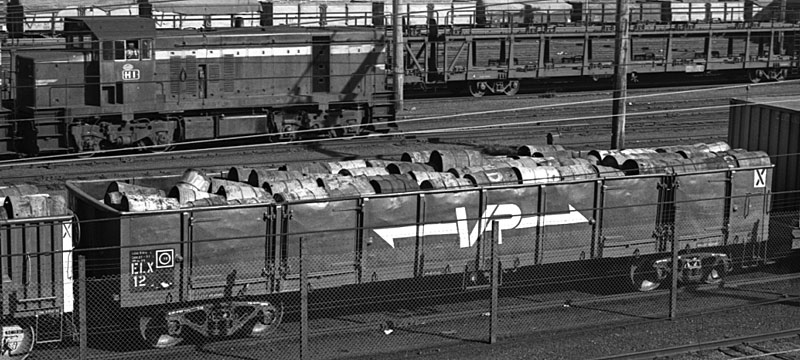 ELX 12, Melb yard 1978
photo courtesy Kent Smiley
---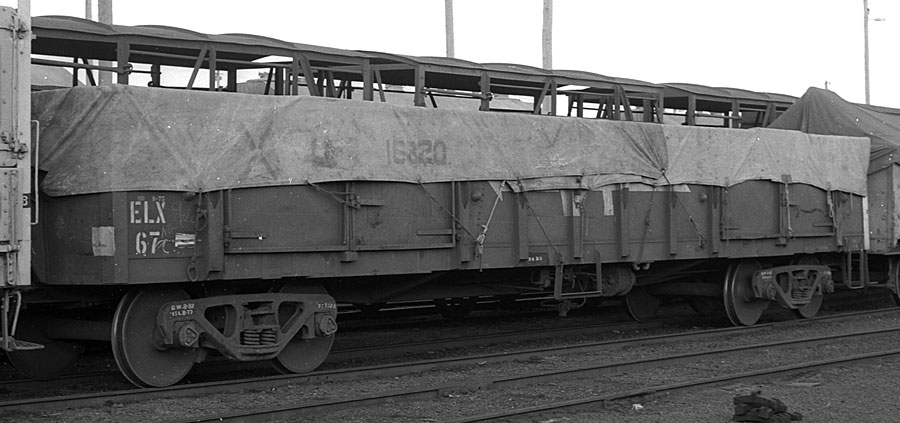 ELX 67, photographed in 1978
---
ELX 364, 1978
---
---
Although not designed for container traffic ELX's were pressed into this service from time to time, during most of the 1970's VR was very short of container wagons. This photo at Sunshine in 1977 shows 3 ELX's in container service on a down Melbourne to Adelaide "jet"
---
VOCX was, I believe, the first VOCX, the wagon before, 1104 was released to traffic as an ELX. Nov. 1978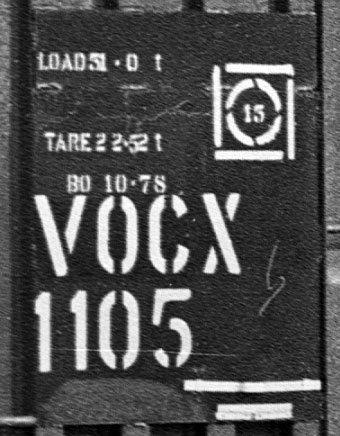 ---

VOCX 1167 at Port Melbourne, 1979.
---

After the 1979 recoding the VOBX code was use to signify an ELX without tarpaulin support gear. VOBX 1001 at Port Melbourne 1979.
---
Post privitisation, Spencer St, Feb 2006